Philip Glass tells all and Lovelace and Babbage get the comic novel treatment
Plus: Love, Sex and Other Foreign Policy Goals
---
Page File El Reg bookworm Mark Diston chews through the latest literary treats with a fascinating autobiography from composer Philip Glass. Jesse Armstrong of Peep Show fame has a debut novel and for comic novel fans we've a curious take on the development of the first computer from Sydney Padua.
Words Without Music
Philip Glass is a renowned American composer and Words Without Music is his autobiography. Glass describes growing up in a secular Jewish family in Baltimore: his mother is a librarian and his father graduates from auto mechanic, via car radio repairs, to owning a record shop where young Philip gets his earliest musical education.
His childhood recollections remind me of the biography of another upwardly mobile young Jewish lad, Richard Feynman. Glass is something of a precocious individual, gaining entry to Chicago University at age 15 where, unlike Baltimore, students aren't segregated: "I think it took me less than a minute to realise that I had lived my whole life in a place that was completely wrong… it was a revelation."
Glass hears Chicago Jazz as "a variant of baroque music" and recalls some advice proffered to him by Ornette Coleman: "Don't forget Philip, the music world and the music business are not the same."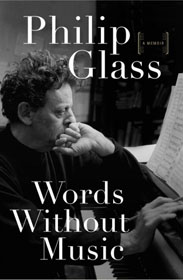 Glass constantly asks himself: "Where does music come from?"
After university, Glass attends the prestigious Juilliard music school in NYC, supporting himself by taking a variety of blue collar jobs. He does not make a living from music until age 41, after 24 years of day jobs including plumber, crane operator and taxi driver. His most famous cab fare, he says, was Salvador Dali.
He meets his future wife, Jo Anne, in New York and they both leave the US to study in Paris; he music, she theatre. From there the couple embark on an overland journey east, eventually arriving in India.
Glass confesses: "At age 29 I was completely ignorant of any non-western music." This trip changes that and Glass describes the sights and sounds of his journey which leave him with a passion for all genres of music and a lifelong attachment to Tibetan Buddhism. Despite all the travelling, Glass feels that "the biggest influence on my music has been in fact the energy system known as New York City."
Upon his return he rents a loft space, part of which he shares with avante-garde composer and instrument inventor, Moondog. His musical and artistic connections are related; probably the best yarn is that of Jerry Lieber, another Baltimore boy who was saved from bullying by Glass's mother, and repays the debt by advising Glass to set up his own publishing company.
Success eventually comes to Glass in the mid-seventies with Einstein on the Beach but he still drives cabs for another two years to pay off the debts that he incurred staging his first opera.
The latter part of the book deals with success and loss, concentrating more on the latter. The death of his partner Candy to liver cancer in her late thirties is related and there are tributes to her and other late friends and collaborators such as Allen Ginsberg and Doris Lessing.
Of course, there is much of Words Without Music that deals with the composition and staging of his works, but you don't have to particularly enjoy Glass's music to appreciate this book. It is a fascinating observation on the nature of art, being an artist and the benefits of keeping an open mind, Philip Glass is a truly thoughtful, talented and inspiring writer. Words Without Music is not only one of the best musical biographies that I have ever read, it is also a brilliant meditation on the nature of life and creativity.

Author
Philip Glass
Title
Words Without Music
Publisher
Faber and Faber
Price
£22.50 (Hardback), £16 (eBook)
More info
Publication web site