This article is more than 1 year old
Go for a spin on Record Store Day: Lifting the lid on vinyl, CD and tape
Tech for digitising treasured tunes – how easy is it to get into the groove?
Rip it. Rip it good
The files from Amazon's AutoRip are variable bit-rate, and pretty good quality – but still MP3. If you want a different format such as FLAC, then you're really going to have to sort it out yourself – and that means finding a turntable and connecting it to your computer.
Many computers have an audio input, but sadly it's not suitable for connecting to a turntable – modern moving magnet and moving coil phono cartridges provide a very low output (especially moving coil), way below the standard line levels needed. One solution is a phono pre-amplifier connected to your PC's audio input, while another is a dedicated device specifically for converting LPs. And as the popularity of vinyl has surged, so manufacturers have reacted.
Several years ago, you'd have been hard-pressed to find many turntables outside a specialist hi-fi retailer or DJ equipment den. Now there are plenty around, and some of them include USB audio outputs, to make conversion as painless as possible. I put two of them through their paces to see what sort of results you can get. For reference, they were compared to my own turntable, a Linn Sondek LP12.
Audio-Technica AT-LP60USB
Audio-Technica is well known for its phono cartridges and the AT-LP60USB is, at £129, at the budget end of their range of turntables.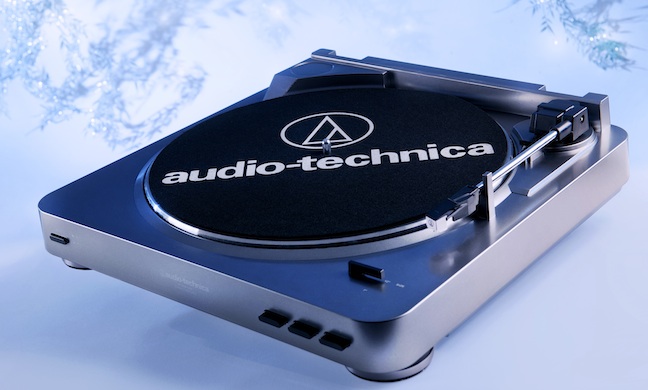 Audio-Technica's AT-LP60USB is a good entry level USB turntable
It's a compact unit, with a footprint not much larger than an album sleeve. The power supply is built in, and the audio output leads are captive, too. The back panel has a small switch that allows you to enable or disable the built in pre-amplifier, so you can connect to just about any audio system. I tested with the pre-amp enabled, as my hi-fi has a moving coil input, rather than one suited to the cartridge fitted. That, incidentally, is an integral piece – you can't swap it for a different model, nor are there adjustments for tracking weight.
Also included in the package is a CD with the Audacity software and a couple of adaptors so you can hook up to a 3.5mm audio input. The LP60 is an automatic turntable, which means it lifts and returns the arm itself. Push buttons on the front select speed, start, stop and raise or lower the arm, while a lever on the top selects seven or twelve inch.
The ADC chip is a TI/Burr-Brown PCM2900C. Just plug the deck into your computer, select USB Audio and you're away. A simple guide included with the deck gives basic instructions too. Being an automatic deck, you can at least wander away and not come back to a long recording of the run-out groove. But how does it sound?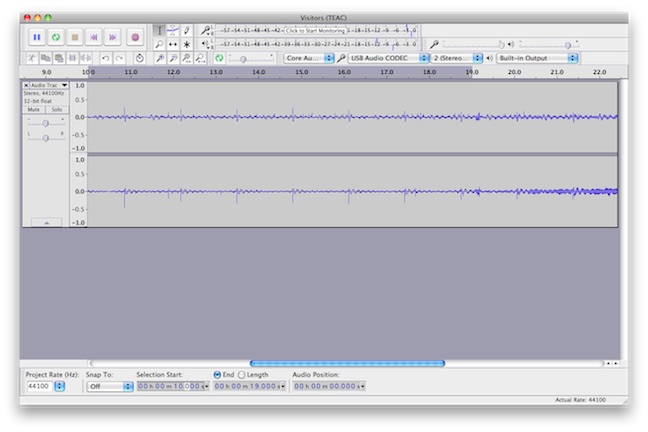 Recording your vinyl in Audacity is very easy
With a record in good condition, the results are fairly decent, though bass didn't seem quite as impressive as on the Teac TN-300, the other player reviewed here. However, one thing that was very noticeable; there was a lot of mechanical noise when playing a single that wasn't entirely flat. While not as audible on the USB output, when listening through the speakers, it was quite pronounced, so this may not be the best option for those with damaged records.
Also, remember that if you have any 10-inch discs, you'll have to pick one of the other sizes, press the button to raise the tone arm, and then move it manually after pressing the start button. That said, if you have records in fairly good nick, or are happy with a little mechanical noise, it'll do the job fine.