This article is more than 1 year old
Go for a spin on Record Store Day: Lifting the lid on vinyl, CD and tape
Tech for digitising treasured tunes – how easy is it to get into the groove?
Teac TN-300
One of the unwritten laws of the hi-fi world seems to be that the more something costs, the simpler it is. And so the £300 Teac TN-300, being more expensive than the Audio-Technica, is a manual deck, rather than an automatic one. It's larger – a little closer to the size of my old Rega RP3 – and the one sent for testing was in a white lacquer finish. There are on/off and speed controls on the top, plus the cue lever, and the supplied cartridge is an Audio-Technica AT95 in a removeable headshell.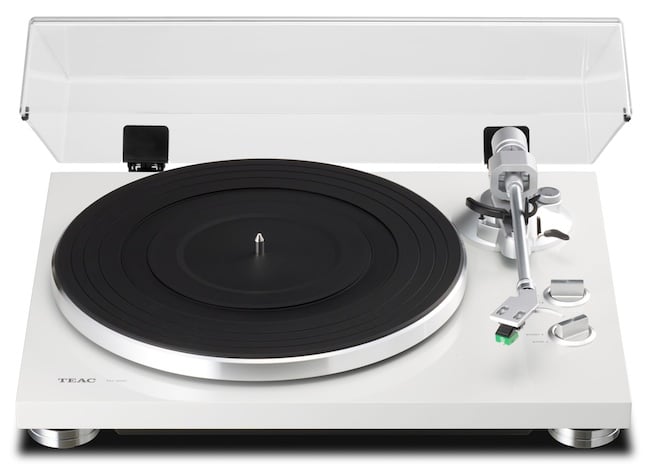 The Teac TN-300 is good enough to fit in most hi-fi systems
A removable cartridge could be a useful feature if you have 78rpm records; although there's no 78rpm speed, you can adjust recordings in Audacity very easily, and a second headshell with a suitable cartridge would save a lot of time if you want to digitise your shellac.
The power supply is external – a small plug-top PSU – and like the Audio-Technica, the speed change is electronic. On the back panel are phono outputs, a USB port, power socket and switch and a switch to bypass the built-in pre-amp. Again, I tested using the built-in pre-amp. The ADC is the older PCM2900 version of the Burr-Brown chip in the Audio-Technica. The difference is, apparently, in the volume curve and the Windows 7 certification. As expected, it appears as a USB Audio device and works fine with Audacity.
In terms of sound quality, there was no audible rumble on the slightly wonky single, and on other tracks the sound felt a little more balanced between top and bottom end. I think most people – unless they have very exacting ears and a very expensive system – would be hard-put to tell the difference between this and some much more expensive hi-fi turntables.
That said, there was a minor annoyance in the form of pick-up from the dust cover; touching that did produce a distinctly audible thump through the speakers, so if you're recording it'll be best to avoid lifting it until you've finished.
All round, this is a pretty decent bit of kit – if you want to add a turntable to your hifi, this would be a pretty sound choice, even if you didn't want the USB recording.
Other choices
Besides the two decks tested here, there are lots of other options around. At the bargain end of the market, of course, are the Ion USB turntables available from companies like Maplin. If you fancy something a little more DJ-like, and have always lusted after the Technics SL1200, then Audio-Technica's other offerings may appeal to you too.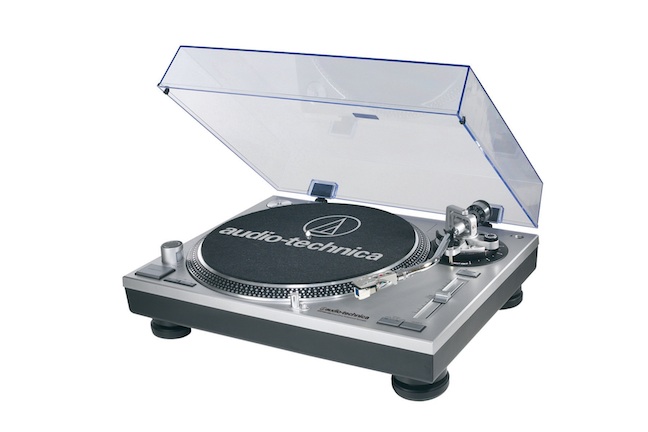 Separated at birth? The Audio-Technical LP120 is a dead ringer for Technics' classic SL1200
Called the AT-LP120USB, you could be forgiven for thinking that it's the long-lost twin of the Technics. Like that old classic, it's a direct-drive, which gives you a faster start up and hours of fun with a slip-mat. It also has 78rpm, and can even play backwards – perfect for enjoying those satanic messages buried in the end grooves. It comes in at £279, while the LP1240USB is a slightly more rugged edition, at £439.
Vienna-based Pro-Ject Audio Systems has a range of turntables, several of which also include USB. But they're perhaps more widely known for their stand-alone phono pre-amplifiers, which allow you to easily add a turntable to a hi-fi system that doesn't have a suitable low-level input.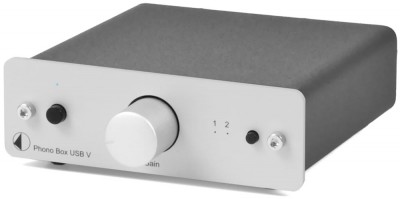 Rejuvenate an old turntable with a USB pre-amp like the Phono Box
So, if you have a turntable sitting gathering dust just because your new stereo doesn't have a suitable input, something like the Pro-Ject Phono Box USB V will let you kill two birds with one stone, as it features a switchable moving magnet/moving coil pre-amp, together with an ADC that samples at a CD-like 44.1kHz for USB output. It'll set you back around £139.
If ease of use is the most important thing to you, and you don't want to convert your CDs to, say, FLAC, then one other option worth looking out for is the Denon DP-200USB. Like the Audio-Technical LP60, it's an automatic deck, and you can pick it up for around £150.
Unlike the alternatives, there's no USB audio output. Instead, you plug a flash drive into the USB port on the front, and the whole record is saved in 192kbps MP3 format. You can split it into tracks later on the PC if you want.