This article is more than 1 year old
Alice's Adventures Underground: Don't be late for this very important date
Directly be directed in the right direction
Theatre Review As I head down to the revived Vaults below London's Waterloo, I figure that the Jabberwocky must be up to some mischief as the performance starts an hour and a half late due to a power outage.
This wait, combined with an open bar, could see the opening gala of Alice's Adventures Underground become more of a scene from an Irvine Welsh novel, as opposed to an ethereal piece of interactive theatre with Begbie, perhaps, replacing the Mad Hatter. The more I drink the more these surroundings become curiouser and curiouser.
Luckily, I hold my composure long enough – after one too many Royal Rose cocktails – to traverse through the bookcase and Charles Dodgson's Study, catching my first glimpse of wraith-like waif Alice, to the stage where I'm compelled to choose between 'EAT ME' or 'DRINK ME' – which would decide my course through this astonishing experience.
Sticking with the theme of my night so far I opt for 'DRINK ME': and so begins my fall down the rabbit hole and into the world of a new immersive production celebrating 150 years of Lewis Carroll's warped fantasy adventure, Alice in Wonderland, created by the theatre company Les Enfants Terribles.
Alice Underground is the brainchild of the company's artistic director, Oliver Lansley, who wrote and co-directed the show, and showcases some of the most impressive and entrancing sets and costumes – albeit styled to a state of elegant decay – that I have come across in in my excursions through theatreland.
Artistic designer Sam Wyers has created a sinister subterranean magical maze full of amazing optical illusions complemented by puppets and props, such as a clowder of beguiling Cheshire cats with florescent teeth and a pantry stocked with blocks of cheese with human eyes staring out at you.
Given my suit, I am ironically handed the Ace of Spades, before being led on a mission to join the Wonderland Underground Resistance Movement as they prepare to make their move against the terrifying Queen of Hearts.
I am ushered through rooms to watch astonishingly diverse scenes.
There are those well-loved, bumbling circus performers, Tweedle Dum and Tweedle Dee, who pirouette above my head wearing horrifying, outsized papier-mâché heads – all teeth and eyes ...
And then on I go to the most memorable blacklit passage populated by mushroom trees made of glowing parasols, which serves as the entrance to a circular shisha lounge inhabited by a hallucinatory puppet caterpillar, who gives a rousing call to action against the red royal despot.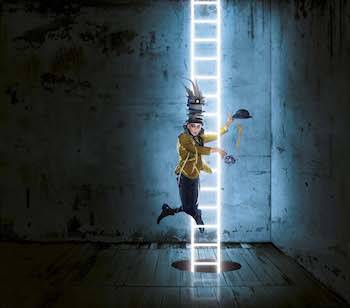 The loud patter of the Mad Hatter. Image credit: Jason Joyce
As I move through the rooms, I catch glimpses of the other attendees gathered in the corridors and reflected in mirrors, who must have chosen the 'EAT ME' route. As we are delicately moved around each other – in what I can only imagine is a logistical nightmare – I notice that the organisers have somehow managed to time the apparent clash of bodies with such precision that the groups of fourteen patrons loop through each performance space in what is actually a very linear experience.
That said, I never once get the sense that any of the performers are repeating themselves. Instead, I am completely spellbound.
As a group of 56, we are all brought together, naturally enough, for an archaistic tea party and a kangaroo court. I know now that my time in these vaults will not be forgotten in a hurry.
Emerging to a bar painted with giant pink flamingos with the strains of a live swing band ringing out, my mind needs another cocktail to try to digest the scale of the spectacle I have just beheld.
Ticket prices start at £35, which is cheaper than many other upcoming immersive productions.
And, it's safe to say, Carroll's illustrious legacy continues to endure in this astonishing artisan production. ®
Alice's Adventures Underground at the Vaults, London SE1 (0871 230 1557), runs until the end of August 2015. Dress code: red or black; running time: 90 minutes.