Qumulo gets fat appliance alongside skinny fast one
Scale-out big box is a 1,000-node wannabe Isilon-beater
---
Qumulo – the start-up building a better-than-Isilon scale-out NAS and staffed by Isilon vets – has launched a capacity-focused hardware product to complement its fast skinny one.
Qumulo's QC24 is a 1U appliance focused on performance, with 24TB of raw disk and 1.6TB of raw flash capacity (2 x 800GB eMLC SSDs) per node with the node count running up to 1,000. It's powered by a 6-core Xeon E5 1650v2 3.50GHz CPU with 64GB of RAM.
The QC208 appliance is optimised for capacity, being a 4U enclosure running commodity hardware in a 4-node cluster design. Per-node it has 208TB of raw HDD capacity – 26 x 8TB HDD – and 2.6TB of raw SSD capacity per node – 13 x 200GB eMLC SSD – all hot-swappable.
The processor complex comprises 2 x Intel Xeon E5 2620v3 2.40GHz 6-cores with 128GB of RAM.
That means 832TB across the 4 nodes and to scale out, just add more nodes, with connectivity ports being 40GbitE QSFP+.

Qumulo QC208
The nodes run Qumulo Core, deliverable as a software-only product running on hybrid flash/disk commodity hardware, dedicated appliances or in virtual machines. It uses the the Qumulo Scalable File System (QSFS) and is said to be data-aware.
Qumulo Core provides real-time analytics to curate and manage data. Qumulo says this will "help businesses obtain instant answers about their data footprint by explaining usage patterns and which users or workloads are impacting their performance and capacity".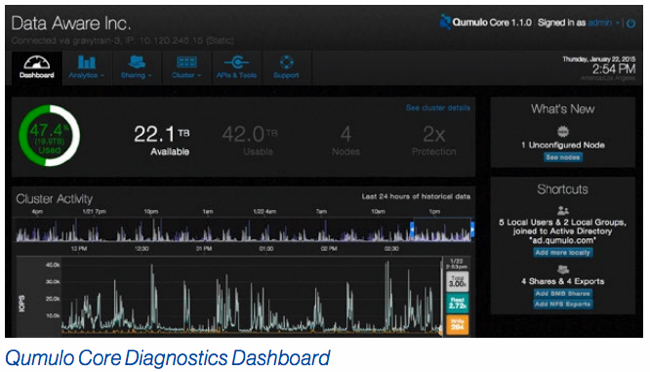 Now Qumulo has both performance and capacity nodes and we can expect its software to be energetically developed, with the company saying its storage can be used more efficiently than alternatives because of its real-time analytics.
Perhaps it might think about adding data reduction technology? Maybe a cloud back-end? Perhaps replication?
Get a QC24 datasheet here (pdf) and a QC208 one here. The Qumulo QC208 hybrid storage appliance is available to order and will ship in Q2 2015, costing less per GB than the QC24. ®