Seagate's third quarter results looking lacklustre as profits tumble
Getting a bit tired are we? Need a lie down?
---
Seagate has reported year-on-year declines in third-quarter revenue and profit, as notebook enhancements went unnoticed.
Third fiscal 2015 quarter revenues were $3.3bn, 3 per cent down on the $3.4bn recorded a year ago and 11 per cent lower than the second full-year 2015 quarter's $3.7bn.
Profits were $291m, 26 per cent down on the year-ago quarter and a whopping 69 per cent down on the previous quarter.
What gives?
Last quarter's net profit was boosted by the $630m arbitration award from WD over its recruitment of a disk head guy and his secret knowledge. So we can discount that.
The prepared quote from CEO and chairman Steve Luczo talked about how "near-term macro uncertainty is affecting certain areas of our addressable market. However, we remain optimistic that market demand for exabytes of storage will continue to increase over the long term. In light of dynamic market conditions this quarter, we are quite satisfied with our operational performance and ability to return value to shareholders".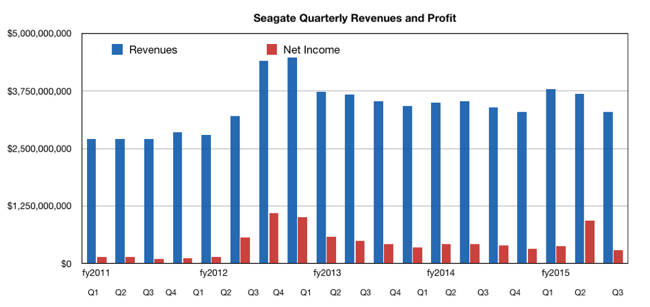 Seagate quarterly results to Q3 full-year 2015
Seagate said the average capacity per drive has now grown to 1.102TB, from 0.92TB a year ago.
It shipped 55.2EB of drive capacity: better than the 50.8EB shipped a year ago, but not so good as the 61.3EB shipped in the second quarter.
Our calculations show it shipping 50.1 million drives in the quarter, which is 9 per cent down on a year ago and 12 per cent less than a quarter ago.
There were 9.1 million enterprise drives shipped – a record – and 14.3 million desktop drives, well down on the year-ago's 19.8 million and the prior quarter's 16 million. This reflects the decline in PC sales.
Notebook drives didn't make up for it. In fact, 16.8 million were shipped compared with 16.4 million a year ago and 19.7 million in the previous quarter and 20.2 million in the quarter before that. Oops.
Some 4.8 million consumer electronics drives were shipped, down annually (5.4 million) and sequentially (6.1 million).
Branded drive sales were 5.1 million units, down annually (5.9 million) and sequentially (6 million).
Seagate is not exactly covering itself in glory here and Luczo's point about how he feels "quite satisfied with our operational performance" seems possibly complacent.
In our view, the focus on adding smidgins of flash to make notebook drives access data faster has not worked in terns of boosting notebook drive shipments. Buyers don't seem to care and the notebook drive shipment decrease could be as much attributable to misguided product strategy as weak economic conditions.
Intel results reflected a weakening desktop market, but said nothing about a weak notebook market.
The ClusterStor high-end array business is not having its results singled out and nor is Seagate's SSD and PCIe card flash business, suggesting that they are not yet big enough to be singled out. Ditto its slow-developing Kinetic drive business.
A lot of money has been returned to shareholders in dividends and via cash buy-backs but, on the evidence of this quarter's results, it's arguable that Seagate is barely running fast enough to stand still.
Luczo said: "We are focused on aligning our storage technology portfolio effectively to capitalise on market growth opportunities, demonstrating operating profitability and returning value to shareholders."
El Reg's view
Seagate is a big fat cash cow that's looking as if it doesn't care enough to fight hard enough for business against WD/HGST and Toshiba.
It has no apparent answer to HGST's Helium drives and their effective extra platter's-worth of capacity compared to air-filled drives. Unless it finds one, then its focus on the enterprise and hyper-scale capacity market will place it automatically in second place behind HGST.
The company is looking, if it's possible to say this, a bit tired. We'll have to await WD's results to see if it too has been set back by a weakened economy, and whether our potential judgment on Seagate's fatigue is justified or illusory. ®