Ex-Windows designer: Ballmer was dogmatic, Sinofsky's bonkers, and WinPho needs to change
You will learn to love Hamburger menus. You will
A former Windows Phone and Office lead designer has shed some valuable insight into Microsoft's internal processes, design and strategy. Designer Jon Bell* left Microsoft a year ago but his Reddit AMA is still vastly more informative than anything that emerges from the Redmond politburo.
Steve Ballmer killed an early version of Office for iOS because it compromised Windows, Bell said. He added that Steve Sinofsky's reign was marked by infighting, hampering Microsoft's strategic response to competition from Apple and Google.
Bell also related how the Windows Phone team felt let down by poor marketing for Windows Phone, which the team felt was a breakthrough design with huge potential mass appeal.
Much of his Q&A was devoted to hugely unpopular design changes to Windows Phone. Bell said these are necessary because despite Windows Phone's radical design, it's missing out on the mainstream.
Bell applied to join Microsoft after seeing a Windows Phone, a decision colleagues thought was crazy. Yet he was convinced during interviewing that Microsoft could leave behind its legacy "Windows first" strategy that killed so many promising initiatives for fear they would compromise Microsoft's cash cow.
He left Redmond a year ago for Twitter, stressing that he isn't spilling any trade secrets.
Those secrets entail major changes to Windows Phone's design, with user dissatisfaction bubbling over in recent weeks following the release of a Technical Preview of Windows 10 for phones. Fans of Windows Phone, along with the brand, the platform's usability and its distinctiveness have been sacrificed.
There's even an emblem for this ire: the introduction of a "Hamburger Menu", a feature of Windows since 1983. It disappeared in the Windows Phone but returns in a hard-to-reach spot.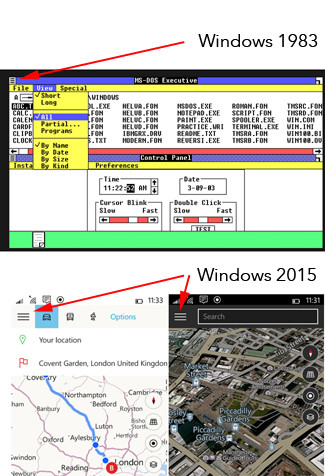 The hamburger menu has been a mainstay of Windows on PCs, which was announced in 1983 and released in 1985.
Lower image: Windows 10 Technical Preview for phones
Mobile users say it's inappropriate for mobile UIs, and hard to reach on large modern devices
Click to enlarge
"The new Microsoft apps have more functionality than their predecessors but they are currently less well tailored to the requirements of a phone UI," wrote Tim Anderson in our hands on last week. "There is also a dilution of the old simplicity- and clarity-focused Metro concept."
"Taking away a phone UI people love and replacing it with a desktop UI people don't is regarded by the Head Shed at Redmond as some kind of strategic masterstroke," I scoffed.
Yet there's a method behind the madness, asserted Bell, and it's necessary for Windows Phone's long term survival.
While Steve Jobs may have called it "beautiful", Windows has just three per cent of the global market share. In lab tests the original design both confused users and hampered its growth.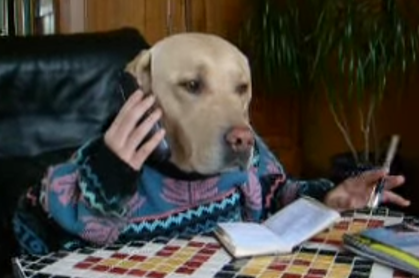 Windows Phone confused many users, says a former lead Windows Phone designer
"Metro had to shock people. it had to look like its own thing. And it really did that well. Pivots, panos [panorama views], big text, black everywhere, it looked like art…" Bell wrote in his AMA. However:
Being a special unique snowflake works for art but not design. Design should be invisible… so you have die hards that love it, but you have the mainstream of the market that struggles with it, if they trey at all.
Bell said that in lab tests users were confused.
we were all pretty bummed by how the marketing stuff panned out. But do you know what was a thousand times worse? Going on site, handing someone a Windows Phone,and watching them universally struggle with it… the stark look of Windows Phone seemed to turn off more people than fell in love with it.
"By the time you pile up all the data and the expectations, it works best on top," he added.
Despite the visual striking appeal, the WP7 design limited the gestures users could use to tap deeper into an application's functionality.
Windows Phone's original interaction model put actions on the bottom and navigation on the sides, as swipes. That's not a great pattern for a variety of reasons… Many of us believed that the old interaction model just wasn't going to work. You can't stick navigation in a horizontal direction. It's part carousel, part "mystery meat navigation" and it just doesn't work. So. We needed to figure out what the new model would be.
The "Hamburger" followed from including a title bar, which in Windows Phone today is a text label with the text of the next horizontal panel partially visible.
However, Microsoft currently has two menus: the ellipses sit at the bottom of the phone as before, which are relatively easy to reach, while the Hamburger menu, containing "junk", or less frequently accessed functions, lies above.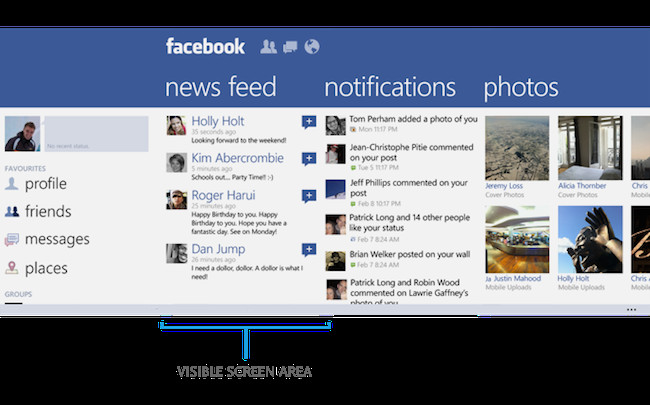 A Pivot View in Windows Phone 7 (2010). Facebook quickly abandoned the style guide.
"Frequently used things have to be reachable, even one handed. But hamburgers are not frequently used and one-handed use is no ironclad. Combine those two factors together and you see why the industry has settled on this standard. It wasn't random", wrote Bell.
He has reservations about what has been released so far but suggests waiting for the finished results.