The EU will tackle copyright infringement and revisit telecoms regulation in 2016, along with a raft of new bureaucracy and spending. Controversially, it aims to further "harmonise" VAT and contract law across EU member states.
The draft appears to have been written before last week's decision by Commissioner Vestager to file an anti-trust complaint against Google – and parts had already leaked, with the FT and WSJ reporting that OTT voice services such as Skype should see greater regulation.
There's nothing to address large telecoms companies' biggest beef: a mega market should allow them to conduct mega mergers, they say.

Policy-based Evidence-making: Commissioner Ansip's robo-buddies know what they want to do, and will find the evidence that supports it
The draft was leaked to various media - El Reg received a copy, and we know of others. At American political news site Politico's European tentacle, former Competition Commissioner (DG-COMP) Neelie Kroes' representative on Earth (and hagiographer) Ryan Heath wrote it up.
Coincidentally, Heath was at DG-UNICORN DG-COMP when it helped leak Commissioner Barnier's copyright white paper – which Kroes then ensured was derailed. In the Brussels bubble, every leaker has a motive.
Ansip's draft pledges "rapid actions to remove the major differences between the online and offline worlds i.e. breaking down barriers to cross-border activity". His little robot buddies believe EU consumers could save €11.7bn each year "if they could choose from a full range of EU goods and services when shopping online".
Presumably this would happen if they bought everything from Bulgaria (GDP per capita as percentage of EU average 2013: 47 per cent) and not Germany (where it's 126 per cent) – and only if the Bulgarians didn't put their prices up, which is what normally happens in a market when demand flares.
Ansip's pet peeve, the territorial licensing of digital content, falls under the category of obstacles to cross-border trade. Ansip complained that he couldn't watch Estonian football when he was in Brussels – surely making him one of millions vexed by this travesty. First he was sad. Then he became angry. Then he resolved to do something: end geo-blocking!
Yet the real demand for this seems to be low: only one in five Europeans who responded to an EU questionnaire on geo-blocking "indicated their interest in watching or listening to content from other EU countries". Which means four in five get everything they need from the Eurovision Song Contest.
If representatives of industries who rely on copyright are unhappy with the prospect of geo-blocking being outlawed (and they are – see here and here) the paper promises goodies next year if they acquiesce.
Next year, Ansip's robobuddies promise that the EU will harmonise "the procedures for removing illegal content across the EU or establishing additional responsibilities on online companies to monitor and verify the resilience of systems against illegal content".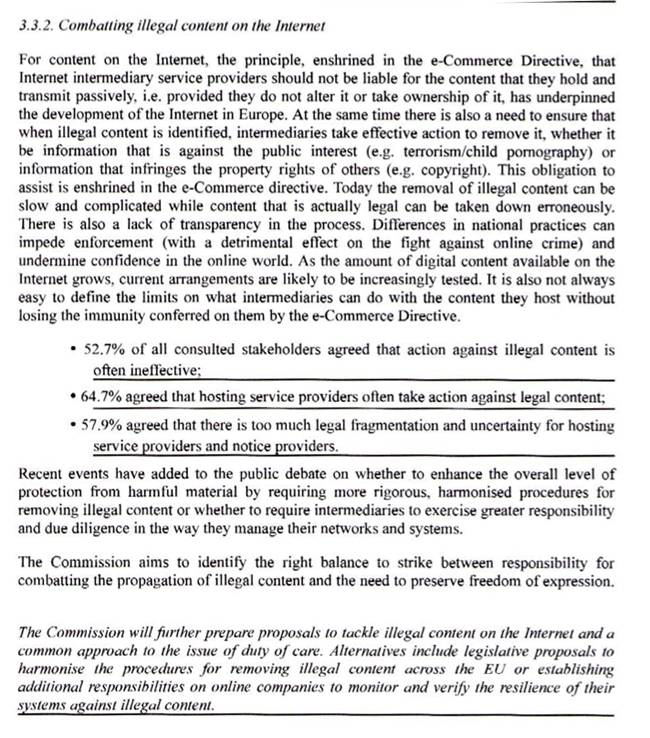 This doesn't incur penalties on the infringer, and sounds like the measures proposed in ACTA, which was voted down by the European Parliament in the belief that it, er, incurred penalties on the infringer. Google does a good job of filtering pornography uploads to YouTube but refuses to apply the much easier technical challenge of filtering unlicensed music or movie uploads to YouTube.
Similar topics