This article is more than 1 year old
Fed-up Colorado man takes 9mm PISTOL to vexing Dell PC
Pumps eight rounds into troublesome box
A Colorado Springs man who decided he'd had just about enough of his cantankerous Dell PC took it into an alleyway and pumped eight 9mm rounds into its sorry case, according to the local Gazette.
Lucas Hinch, 37, simply "got tired of fighting with his computer for the last several months", as the Colorado Springs Police Department's Lt. Jeff Strossner put it. "He was having technology problems, so he took it out in the back alley and shot it."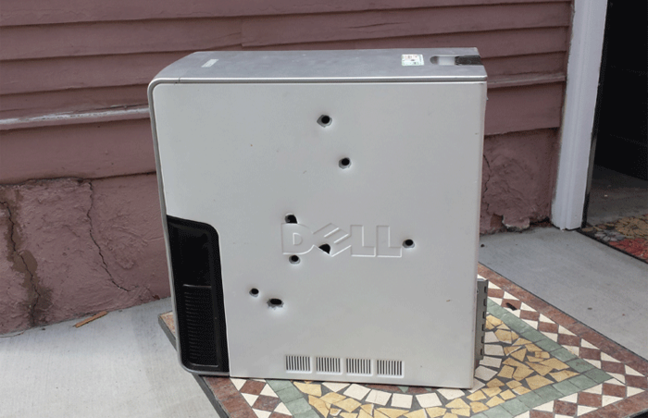 Unfortunately for Hitch, the execution on Monday night attracted the attention of cops who responded to a 911 call about shots fired. Officers cited the homeopathic store owner for "discharging a firearm", and he'll appear before the beak on 11 May on a misdemeanor charge, The Smoking Gun explains.
Police confiscated Hitch's 9mm Hi-Point pistol, but left the corpse of the Dell XPS 410 at the scene. The PC "is survived by a monitor and a keyboard", The Smoking Gun nicely notes. ®