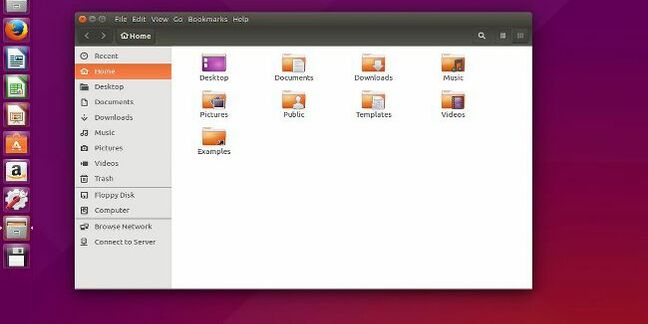 Canonical says Ubuntu 15.04 "Vivid Vervet," the latest version of its popular Linux distro, will ship this week, following a two-month beta period.
Along with the desktop version – which Canonical says is "the favorite environment for Linux developers" – the release will also deliver a range of variants, including special formulations of the OS for cloud deployments, phones, and the Internet of Things (IoT).
El Reg grabbed the beta release of the desktop version back in March and took it for a spin, so you can get a peek at what the various new GUI offerings look like here. Notably Kubuntu, the KDE-based variant, now ships with the Plasma 5, a major UI redesign that has garnered some praise.
The most visible change to the Unity desktop is the return of locally-integrated menus, where an application's top-level menu bar is located at the top of its own window (like how Windows does it) instead of on a single, unified menu bar at the top of the screen (like OS X). You can get the old behavior back with a few configuration tweaks, though.
The desktop release also comes with the usual host of updated software, including Chromium 41, Firefox 36, and LibreOffice 4.4. Canonical has also included a new version of its handy Ubuntu Make – the rebranding of the software formerly known as Ubuntu Developer Tools Center – which now supports installing 14 new tool platforms in addition to Android Studio and the Android SDK.
Big changes on the backend
Under the hood, perhaps the most significant change for this Ubuntu release is that it's the first to ship running the controversial systemd init system by default, rather than the previous Upstart. Most desktop users shouldn't notice the difference, but for admins it's a major change and not everyone will welcome it.
Canonical founder Mark Shuttleworth even himself opposed the shift at first, but eventually relented when it became clear that the larger Debian Linux community – of which Ubuntu is a major part – had decided to go with systemd.
But Vivid Vervet brings other important changes for developers and admins, too, particularly those with a cloudy bent. For example, this is the first release to bundle LXD, Canonical's homegrown "hypervisor" for Linux containers. The biggest benefit of LXD, Canonical says, is that it integrates with OpenStack, meaning admins can use OpenStack APIs to spin up "full system containers" that act like virtual machines but run on bare metal and use resources more efficiently than traditional VMs.
Naturally, that means Ubuntu 15.04 has to include OpenStack, as well. Canonical says it is the first vendor to ship a distro with the OpenStack "Kilo" release, which includes major improvements to the Neutron networking component, identity federation across cloud regions, and improved scalability.
Steady progress on the small end
Even though Canonical has its head planted firmly in the cloud, however, it still hasn't forgotten about smaller-scale deployments. The Ubuntu 15.04 release includes a new build of Ubuntu Phone, which Canonical says is the basis of the version that's currently shipping on the BQ Aquarius E4.5 handset and will soon be available on the Meizu MX4.
This code drop also includes the first stable version of "Snappy" Ubuntu Core, the micro-sized version of the OS that Canonical has pitched for embedded systems work and for cloudy deployments of container-based microservices.
Snappy, being purpose-built, is a little head of mainline Ubuntu in some respects. It supports transactional software updates, for one thing, where the system can be rolled back to its previous state if anything goes wrong. This version of Snappy also ships with version 1.6 of the Docker container-wrangling software, while the main Ubuntu 15.04 release comes with Docker 1.5.
Beyond being a small-footprint host for containers, however, Canonical is also pushing Snappy as a way to get Linux onto drones, robots, network switches, and other devices. In addition to 64-bit Intel chips, this release also supports the ARMv7 architecture with hardware floating point extensions.
Canonical says all of these formulations of Vivid Vervet – including a new build of Ubuntu Kylin, the version specially tailored for the Chinese market – will be available from the customary Ubuntu download site beginning on Thursday, April 23. ®
Sponsored: Webcast: Simplify data protection on AWS