This article is more than 1 year old
Dissing the Valley and ignoring unicorns: The tech boom Oakland style
Upstart conference starts up with a splash near the lake
Analysis "Last year, people were surprised that Vator Splash came to Oakland, this year they're thinking 'yeah, that's about right'."
So claimed Libby Schaaf, the new mayor of the Bay Area's hippest place to be, the new "Brooklyn by the Bay" – yes, we're talking about Oakland.
Schaaf was opening 2015's Vator Splash conference this morning at the Kaiser Center by Oakland's centerpiece, Lake Merritt. The conference is a two-day confab between tech entrepreneurs.
"Doesn't it feel good to get out of the Valley and down to the lake?" she egged.
Yes and no is the honest answer. While Oakland is the new place to be – and undeniably has more culture, spirit and beauty than the somewhat dry Silicon Valley or San Francisco's buzzy but gritty South of Market – it's hard not to note that the auditorium seats have small cigarette trays built into them: a sign that the city has not seen investment and glory days for several decades.
Nevertheless, according to Schaaf, Oakland comes ahead of Austin, Chicago, San Diego, and Washington DC, in terms of VC capital going into tech companies. Last year saw $1.2bn in 97 deals, putting it behind, inevitably, San Francisco, San Jose, New York, Boston, and LA.
"We liked to mix it up a bit in Oakland," Schaaf noted in her own 'pitch', "here we have artists, non-profits, government…" Just the day before on the radio, she'd implied that San Francisco has lost some of its soul as the current tech boom forces out the city's residents, replacing them with tech bros.
The Vator Splash event is busy but not buzzing: the auditorium is half full, there are no more than a handful of investors, and the event is suffering from the sort of delays, bad sound, and unprepared interactions and sessions that always come with conferences on a budget.
Unicorns
That said, there were some gems in the morning's sessions: one with the CEO of JustFab, and another with three leading VCs (all based over the water).
JustFab is a "unicorn," which for those of you not up with the latest Silicon Valley speak means that it is a startup that is now valued at over $1bn. A lot of the tech press has been very excited about the word much as it has been with the terms "pivot" and "bootstrapping" in recent years. Each of them speaks to the fact that the startup game is high-risk and high-failure with occasional shining beacons that make it all seem worthwhile. You just might be the next Twitter or Facebook. Or more realistically, you just might sell yourself to Google.
It's surprisingly honest of Silicon Valley to highlight the extremely low likelihood of success by calling companies that make it after mythical beasts – and perhaps that's why they're already sick of it.
Starting a session called "Unicorns and Super-Sized A rounds", moderator Alastair Goldfisher starts off with the not-ver-promising intro "is it only me that's sick of talking about 'unicorns'?"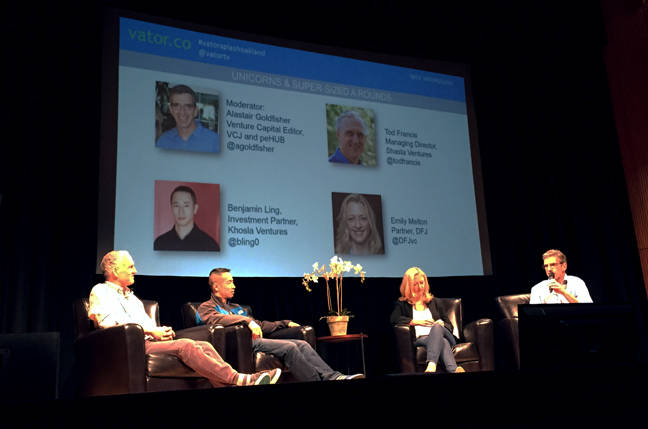 The VC panel ... journalist and VC Alastair Goldfisher on the right
His panelists clearly were too, since the key piece of unicorn advice was not to think about it, or aim for it. Or in fact even consider it. They did however give some solid advice for the keen wannabe Zuckerbergs in the room.
"Fundamentally, businesses are built by people and ultimately we are investing in people. Having stamina is a very important thing," said Emily Melton from DFJ Ventures. Her colleagues agreed. And in the earlier session, Adam Goldenberg (he of the unicorn JustFab fame) repeatedly stressed the fact that the key to his success was his stubbornness. "I was stunned by how hard raising capital has been," he said of his shoes-and-handbags business.
Other notes from the VCs: ask for their advice, and always be honest about how your company is doing – don't gloss it up.
But then they would say that. With such a high failure rate, you could take the risk that your investors will stick with you and help you build up a company instead of pulling the plug. (Or keep taking that pay packet until it all falls apart.)
One thing that has changed in recent years, though, is the approach to funding. Since we're in a tech boom, there are many more, smaller levels of funding that companies hit before the infamous "Series A". Seed funding of $500,000 certainly gets more companies moving, but to hit the $5m-10m of Series A now requires showing real commercial progress.
Interestingly, Goldenberg put a big chunk of his company's success down to the obvious fact that JustFab isn't a tech company: it flogs boots and handbags using the internet as a sales tool. It's also opening stores in the real world.
JustFab's gimmick is that it'll let you buy, say, $60 shoes for $39.99 if you join its "VIP" club, which will continue to charge you $39.99 a month unless you visit at the start of the month to opt out of that month's fee. Being in the club gets your discounts and other stuff.
The company says its customers each hit its website "30 times a year", but nine out of ten times that is to stop the biz from auto-processing its monthly fee. Most customers buy from JustFab just two to three times a year, Goldenberg noted.
He also stressed that punters are warned that they will be charged unless they choose to "skip the month." He didn't mention a lawsuit filed against his startup by the Santa Cruz District Attorneys' Office that accused the biz of misleading people over the automatic monthly fee. JustFab, based in El Segundo, California, settled that legal challenge out of court just a few months ago for $1.8m.
JustFab's auto-charge may be a model that works right now, but can you imagine have to visit dozens of stores each month just to stop them from charging you?
Back to Oakland
Oakland has 427 tech businesses with more than 7,000 employees, and tech represents the third-fastest-growing sector in the city. But as to what Oakland can offer the world, well that may come in a session this afternoon where Mayor Schaaf returns to discuss "when will tech look like America?"
Silicon Valley is widely mocked for being overrun by tech bros funded by old white men. In the internet era, that intrinsic bias may actually be bad for business if startups default, even subconsciously, to serving white twenty-something men with disposable income. There are big chunks of underserved markets up for grabs at the moment, and it requires diversity to understand how best to reach them.
If Oakland has one thing going for it (as well as the weather) it's that the city is wildly diverse. And pretty much all Oaklanders prefer living on this side of the bay. If companies want their insights and skills, at some point they're going to have to head over here. ®