Disk drive shipments have a negative CAGR, and will fall by 3.7 per cent between 2013 and 2020, said spindle motor maker Nidec.
Within that, traditional enterprise drive shipments will decrease by 17.6 per cent, PC drives will drop 8.1 per cent, consumer electronics drives by 6.9 per cent and external drives by 0.4 per cent, but high-capacity data centre drive shipments will grow at a CAGR of 16.2 per cent.
Stifel MD Aaron Rakers says Nidec disk motor shipments have a high correlation with overall disk drive shipments, so these Nidec estimates are reasonable.
At the same time as the unit numbers decline, capacity per drive will increase, which will help preserve prices. But in the long-term, fewer drives produced by more and more expensive manufacturing processes – think HAMR – does not impart a picture of disk drive industry health.
Charting the numbers: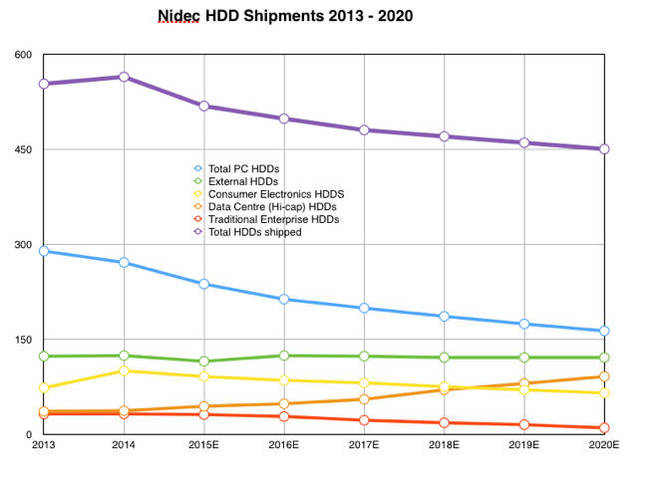 Nidec numbers charted. Vertical axis shows millions of drives. The top purple line represents total drive shipments
The reasons for the decline are the replacement of PCs by tablets and smart phones and their use of flash storage, together with the use of flash for storing data which must be accessed quickly. High-capacity and relatively slow-access data centre drives (data tubs) are not affected by this move to flash, at least within the outlook period of Nidec's estimated numbers.
On the basis of this chart its easy to see why disk drive manufacturers are (1) moving into flash, (2) focusing on high-capacity 3.5-inch drives, and (3) concentrating on external disk drive products. The other drive sectors are in managed decline.
A consequence of this overall picture is that the use of multiple 2.5-inch disk drives in an enclosure – to get more overall data access speed – may well start falling away, as flash fever takes hold. ®