The sickly software-defined storage child that was FalconStor is not yet a strapping adolescent, but is at least on the way back to full health.
First quarter 2015 revenues were a startlingly high $19.9 million, coming from a quarterly revenue band of $12-$15 million over the previous eight quarters.
The year-ago quarter's revenue was $12 million, and the previous quarter was $12.8 million — so you can see that $19.9 million really does stand out.
There was a net profit of $5.3 million, a stark contrast to the previous eight quarters of losses, including $2.8 million a year ago.
So what is going on?
The company stated that "Q1 2015 revenue would have totaled $10.1 million, excluding $9.9 million relating to the acceleration of previously deferred revenue." This extra dosh came in due to "the termination of ongoing maintenance services during the first quarter of 2015 associated with our joint-development agreement," which was with, we understand, Violin Memory.
So, $10.1 million is more like it and that would have been a 16 per cent decline on the year-ago quarter, continuing the existing revenue decline trend. The net profit would also become a net loss without this extra $9.9 million.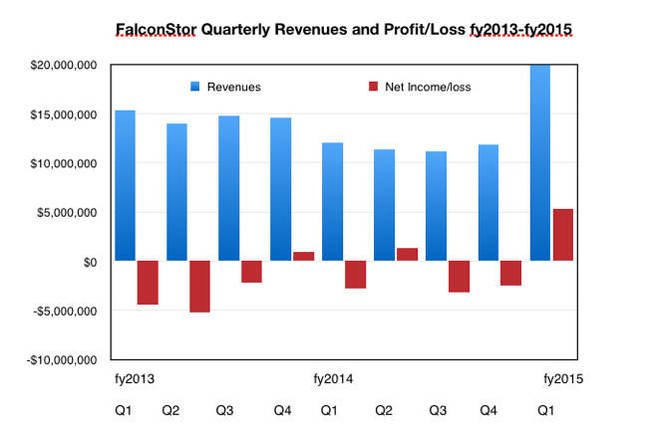 Q1 full year 2015 peak due to $9.9 million deferred revenue coming in
The overall decline in FalconStor's business over the past few years can be clearly seen in a chart of its annual revenues and net income/loss:

Since 2010 losses have been steadily decreasing (but it's still losses)
Things are looking up. It has rewritten its core product, calling it FreeStor, and gained three OEMs "with industry leading manufactures ... two in Asia [and one] in EMEA ... to embed our technology to add value to either their all-flash storage arrays, servers or services".
In the results earnings call CEO Gary Quinn said of FreeStor: "We will be releasing this exciting new software-defined storage offering in the next few weeks and we have already received significant interest from partners and customers around the globe."
"The FreeStor technology, which is the integrated platform which starts out with a base component of NSS version 8 with some additional features and capability built into it, will be delivered in the next couple of weeks," he added.
He said the company has a three-pronged approach:
OEM to customers without their own SW-defined storage
Embed its SW into private and hosted private cloud suppliers' offerings
Go after enterprise customers
The three new OEMs will use their own private product names and we're not being told who they are.
"Overall, while we fell short on our internal expectations we were pleased with our bookings performances in our European and Asia Pacific markets, despite the currency challenges each region faced during the quarter," said CFO Louis Petrucelly.
The problems seemed to be coming from across the pond, as Quinn said: "We continue to have softness in our Americas bookings business even with some of the adjustments we have made there; our results were approximately half of our expected bookings targets, although our cash billings and expenses were in line with expectations."
There had been some headcount reductions, with Petrucelly saying: "We closed the quarter with 254 employees worldwide compared with 263 at the end of the year." There's also $21 million in the bank and a share buy-back program has been announced.
Also, Quinn discussed potential acquisitions, arguing that as we see "the opportunities to acquire technology to fill the gap in our portfolio we will use our stock as a currency as well as look to license technology in a way that makes us more competitive."
With the way things are going we might see a profitable quarter later this year and, potentially a profitable 2016.
It will have been a long and hard road back to health but the day FalconStor can get up out of its wheelchair and show it can walk unaided, and make a profit, will be a day for celebrations in its HQ. ®