Rackspace in Crawley: This is a local data centre for local people
But everywhere is 127.0.0.1 for Uncle Sam
Rackspace has completed its Crawley data centre in West Sussex, and claims that it is among the most power-efficient in the UK.
The new facility is 130,000 sq ft in area, and the site covers 15 acres in all. It is designed for up to 50,000 servers. The amount of power available is initially 6MW across two suites, with plans for 12MW across four suites. Its physical security includes a perimeter fence, badge readers, and fingerprint scanners.
The data centre is scheduled to open in May, took 15 months to build, and was designed by Digital Realty with Rackspace. It will be Rackspace's 10th data centre in the world.
The Crawley warehouse is built to Open Compute Project (OCP) standards. The OCP was founded by Facebook in 2011 and publishes hardware designs and specifications for all to use. The consortium's members include AMD, Arista Networks, ARM, Cisco, Dell, HP, Hyve, Intel, Microsoft and Rackspace, and they were joined in March 2015 by Apple, Cisco and Juniper Networks.
The facility has a PUE (Power Usage Effectiveness) of 1.15, whereas Rackspace states that the UK average is 1.7 – the lower the better. The key to this efficiency is the cooling design, we're told, which avoids mechanical refrigeration and includes evaporative cooling. Roof rainwater is harvested as part of the cooling process to reduce the use of mains water.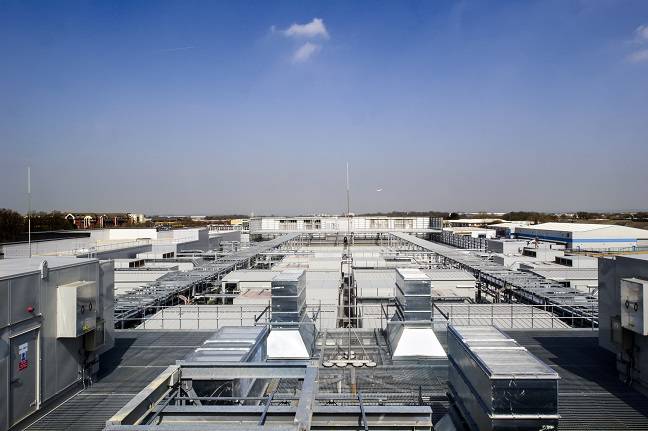 This may look like any old data centre roof, but apparently it's a rainwater harvesting system
The data centre is connected to Rackspace's London metro fibre ring and to the European long-haul route using DWDM (dense wavelength-division multiplexing) fibre.
Why a new UK data centre? The Crawley facility is intended mainly for UK and European customers, and was built to handle increased demand. "Companies prefer to keep their data local," Texas-based Rackspace tells us. That may be so for latency requirements, but as for privacy concerns, the issue of data locality is causing a massive headaches for Microsoft and other cloud giants right now. ®