Memory Man, The Lady from Zagreb and Blood on Snow
A trio of crime thrillers to chill you on the beach
---
Page File El Reg bookworm Mark Diston takes a look at the new releases in crime fiction with the latest from David Baldacci that introduces a new character series. Philip Kerr wheels outs Bernie Gunther for another wartime adventure and we've some Scandi noir from Jo Nesbo.
Memory Man
David Baldacci is a bestselling American novelist, the author of thirty works of crime fiction. Memory Man is the story of Amos Decker, whose life was changed by a "blunt force trauma on the gridiron". For those on the eastern side of the Atlantic, he suffered brain damage playing American football.
The accident left him suffering from hyperthymesia, the inability to forget anything and synesthesia, a condition that associates colours with certain numbers, letters and suchlike. Amos had a successful career as a police officer and a detective until tragedy struck and his wife, daughter and brother-in-law were all murdered at his home.
Decker's life falls to pieces; he lets himself go, loses his home and job and becomes "a fat weirdo dressed as a homeless person… he looked like he should be living in a cave somewhere attempting to conspire with aliens."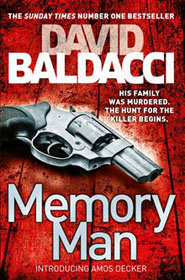 Sixteen months after his family's murders, he is informed that one Sebastian Leopold has handed himself in and confessed to the crime.
Decker heads to the police station to see Leopold for himself. As he arrives there is complete chaos: a school shooting has just taken place in nearby Mansfield High and in the confusion he manages to blag a short visit with Leopold, posing as a defence brief.
Amos is convinced that Leopold is not the perpetrator, but as the school shooting is revealed to be a massacre, his talents are required and he is joins the local police force as a consultant, using his perfect memory in the hunt for the killer.
Memory Man is a highly unlikely and unfeasible tale, but Baldacci is a master of his craft and once you accept these provisos, he drags you headlong through a fascinating and labyrinthine plot.
It is interesting to compare him with that other master of US crime fiction, James Elroy. They both use short, tight sentences but Baldacci hasn't got the black humour, the political incorrectness or the literary ability of Elroy. Yet, neither is he stuck in a mythical past, unlike Elroy.
Baldacci does modern America, the city of Burlington – where most of the action takes place – is on its arse, full of bankruptcies and foreclosures. Baldacci's novels are tighter, less over-inflated and free of Elroy's right-wing posturing, cop worship and liberal-baiting which was wearing thin by LA Confidential and has now become a cliche.
I don't know how Baldacci votes and thinks whereas with Elroy it seems all too obvious. His most recent work, Perfidia, was just more over-inflated nostalgic bluster.
Anyway. The gun used in the school shooting turns out to be the same that killed Amos's family; someone has a grudge against him. The plot is convoluted and the criminal is fucked up – aren't they always?
If you take a step back from this novel it is utterly ridiculous, but it is engaging, fast-paced and everything you could wish for in a page-turner. Amos is an unlikely but compelling hero and if the "introducing Amos Decker" strapline on the cover is anything to go by, we'll be seeing more of this character from Mr Baldacci in future.

Author
David Baldacci
Title
Memory Man
Publisher
Macmillan
Price
£16.99 (Hardback), £7.99 (eBook)
More info
Publication web site
Similar topics
Narrower topics