This article is more than 1 year old
Synths you've been gone: Vintage tech rules at Musikmesse 2015
Crowdfunded classic reissues and more
Sound thinking
As one of the early authors of sample libraries in the 1980s for the likes of Emu, Roland, Korg and Yamaha, I am always interested to see how these products are handled nowadays. After all, the bulk of sample playback is done on virtual instruments running inside sequencers on computers.
So when I rounded a corner and saw a huge distressed Union flag bearing the name Spitfire Audio, I had to stop at one of its many listening stations. I can safely say that in my day, libraries were nowhere this comprehensive, properly catalogued and speedily loaded.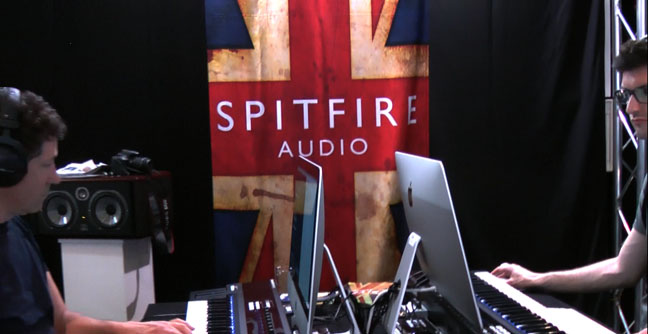 Listen up: Spitfire Audio's samplefest stand
Using the bundled Native Instruments Kontakt Player to trigger the sounds, the breadth and detail available in the libraries is second to none. Created in conjunction with major names like award-winning film music composer Hans Zimmer, drummer Jason Bonham (son of Led Zeppelin sticks man who appears at rare band reunions), Martyn Ware of Heaven 17 and many others, these sound sets are works of art, created in state-of-the-art recording studios.
Whether orchestral groupings or individual tin whistle playing is your thing, you will find it in Spitfire's exhaustive collections and rejoicing in names like Albion or Enigma, they will stir pride in the most cynical British chest.
My personal favourite was The Grange, recorded at the legendary Headley Grange in Hampshire, owned by Zeppelin and where Genesis wrote The Lamb Dies Down on Broadway, Bad Company recorded its seminal first eponymous album and, of course, where Zep themselves recorded 'When the Levee Breaks' – arguably, the most sampled rock drum loop of all time.
The drum sound in the hall of this English country house has become the Holy Grail of all sampled percussion and Spitfire recruited Chad Smith of The Red Hot Chilli Peppers, Roger Taylor of Queen and Andy Gangadeen of Massive Attack to obtain as wide a breadth of great drum sounds and grooves from its hallowed space. Whatever your taste in music, you'll find plenty to inspire you here. It was quite some time before I could drag myself away from the listening booth. More information from Spitfire Audio.
Modal players
Another British manufacturer showing its latest wares (as well as also using the Union flag in its merchandising) was Modal Electronics of Bristol. Its traditionally-inspired polysynths hit the market a few years back. Interest has been steadily growing and the Modal 008 is the latest addition to the range. Indeed, it's encouraging that Novation is no longer the sole example of British synthesiser expertise.
As its name implies, the Modal 008 is an eight-voice version of its digitally controlled analogue synthesis arrangement. The key to the Modal philosophy is a return to the "knob-for-every-parameter" approach that was seen on the synths of the 1970s and early 1980s.
Knob-u-like: Modal Electronics 008 and 002 synth demo
Ah, happy days, before digital user interfaces encouraged designers to hide a thousand functions behind a single parameter select interface. The relentless up and down incrementation that users had to grapple with has, alas, acted as a barrier to fast intuitive programming and live sound manipulation ever since.
Space does not permit listing all of the parameters available but waveform combining and multimode (15) filtering, as well as a 2-track, 12-row, 32-step analogue-style performance sequencer should whet the appetite of the traditionalist who wants his sound palette always live in front of him to tweak.
The Modal 008 pricing has yet to be confirmed, but it will ship this summer. More information from Modal Electronics.