This article is more than 1 year old
Synths you've been gone: Vintage tech rules at Musikmesse 2015
Crowdfunded classic reissues and more
Analogue ghetto
Nostalgia for analogue-style modular machines also hit fever pitch, with many new bijoux miniaturised designs featuring mini patch cords and step-style sequence looping from the likes of Studio Electronics and German companies too numerous to mention.
Most of the time it was impossible to get near these machines, which seemed to be exerting an almost hypnotic spell over the visitors who thronged to the area where they were set up to try, but here is a flavour of what it was like.
I have to say that I have never been a huge fan of what I refer to as spaghetti synths, but if these float your boat you certainly seem spoilt for choice these days. In business for over 30 years, Studio Electronics is a rare survivor of the California synthesiser industry. It offers a bewildering range of analogue-style synths. Its Boomstar desktop range, is now being handled exclusively throughout Europe by MSL Professional.
So if you thought that synth hardware had given way to plug-ins, then Frankfurt proved that the news of its death has been greatly exaggerated.
Dynamic duo
Let's finish by looking at something completely different, also shown at Frankfurt for the first time. Sennheiser, in conjunction with Apogee, had probably the best completely new gadget at the show this year – although there was little competition with all the focus on classic reissues, sample libraries and reworkings of analogue synthesis.
At an exclusive pre-launch for the press, the two companies introduced a solution to a problem dogging all those who have tried to use their iPhones or iPads to film anything from interviews through to short films: whilst the video quality continues to improve in leaps and bounds, the audio is seriously lagging behind.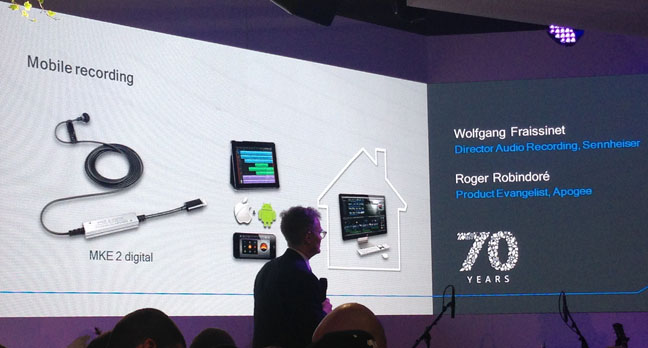 Sennheiser and Apogee's joint announcement to enable high-quality iOS audio recording for video shoots
From this collaboration of Sennheiser – German specialists in professional tie clip mics – and Apogee, US digital audio conversion gurus, the ClipMic Digital and MKE2 Digital were launched virtually simultaneously at Frankfurt and NAB (in Las Vegas), explaining the jetlag the presenters from each company confessed to at the launch.
Using the Lightning connector now standard on all iDevices for the last couple of years, both models bypass the built-in Apple analogue input and mic pre-amp. Instead, Sennheiser's world-class Lavalier mic design is fed through Apogee's award-winning mic pre-amp and A/D conversion circuitry, all squeezed into the tiniest of casings.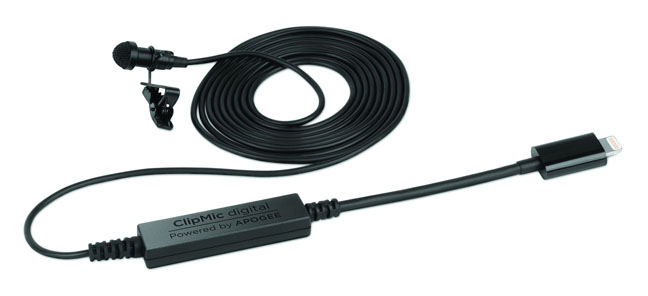 Winning combination: Sennheiser and Apogee's ClipMic digital for iOS
This means that you will then be able to use Apogee's MetaRecorder app to make 24-bit/96kHz recordings directly on to iOS devices. This includes the metadata which will make importing and resyncing these recordings in Final Cut Pro a breeze.
Furthermore, you will be able input and adjust this metadata from an Apple Watch. MicClip will be available from mid-May, with the professionally spec'd MKE 2 following in June.
As for the price, there's no word on this yet, but given the exacting reputation of the companies involved, it just might ruin your day. ®