This article is more than 1 year old
Citroën C4 Cactus BlueHDi: A funky urban crossover
But this car is more style than substance
Vulture at the Wheel Concept cars are great. I love them. As bold, inventive declarations of intent by car makers they are gorgeous to look at. Of course, the vast majority of concepts are for just that. Looking at. Build the thing and you run the risk of the styling writing cheques the engineering can't cash.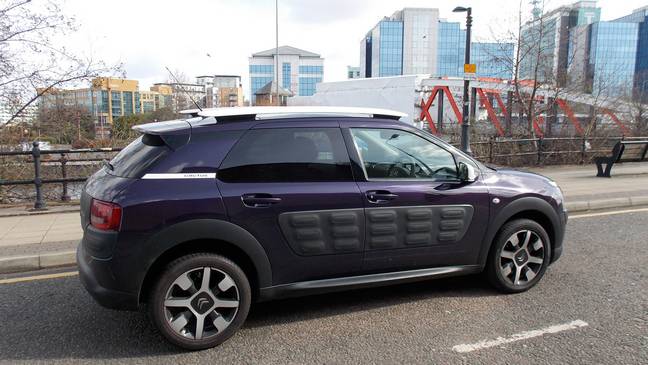 C4 Cactus has the looks but what about the engineering?
When Citroën's Cactus was first shown as a concept at the 2007 Frankfurt Motor Show it had a hybrid diesel powertrain. Disappointingly, despite Citroën having access to a modular all-wheel-drive diesel hybrid system, the production version has to make do with Plain Jane front wheel drive and some pretty mundane petrol and diesel engines.
That first disappointment aside there's no denying the eye catching quality of the Cactus. As round and smooth as a lubed-up marrow there's nothing else on the road quite like it. The low roof-line and long wheelbase further add to a sense of the exotic. Citroën call the styling crosshatch. And then there are those crash panels.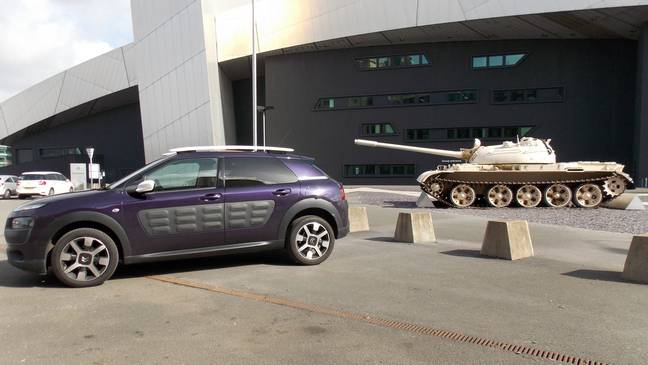 Cactus shakes off small bumps and scrapes. Don't argue with a T55 though
The correct name for those signature side slabs and corner pads are AirBump panels. Made from toughened air-filled thermoplastic polyurethane, they are designed to take minor knocks and bumps and shake them off.
In so far as I could tell – basically I whacked a few of them with a hammer – they work. They do show up dirt and dust badly though, so best get used to your Cactus looking a bit scruffy unless you clean it very regularly.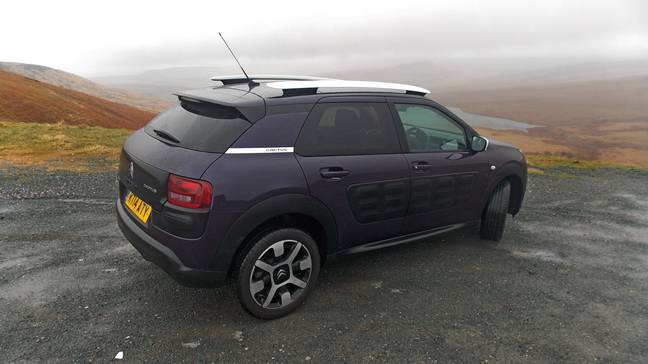 Front-wheel drive Cactus more at home in town than out on't moors
The bold styling continues inside the Cactus's cabin. Minimalist is the only word you can use to describe it. Much of that is thanks to the fact that the majority of vehicle controls, including the ventilation, have to be accessed through a 7-inch touch screen. The instrument binnacle shows a big LED-style indication of the speed and close to Jack-all else.
If you look carefully you'll see that the touch screen is identical to the one found in the Peugeot 208. And it suffers from the same drawbacks. Firstly it's not the most delicate of touch screens and secondly having to touch any screen two or three times to adjust the fan and temperature gets annoying after a while. When it comes to minimalist dashboards Audi has moved the game on a ways with its new TT.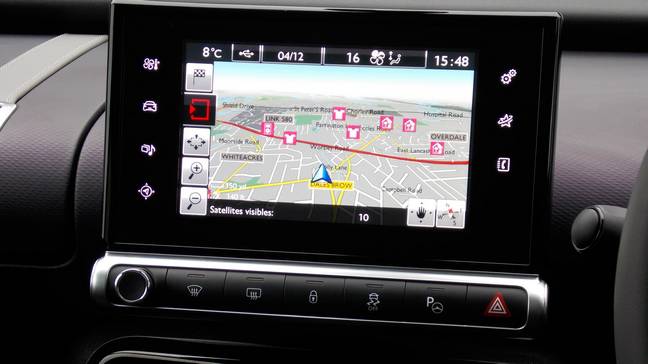 Touch screen not an ideal way to adjust fan and such like
There are plenty of other neat design touches though like the upmarket luggage-inspired Top Box container on the dash (a feature made possible by the Cactus's novel positioning of the main passenger airbag in the roof) and leather strap door pulls.