This article is more than 1 year old
Acer: 'We will be the last man standing in the PC industry'
Acer's Jason Chen will give you Win10 for free
Pics Acer CEO Jason Chen this week tore through the company's international product launch presentation – on the 68th floor of New York's 4 World Trade Center – like a rock star on speed from start to finish. He even donned sunglasses at one point and there seemed every chance that he might not take them off.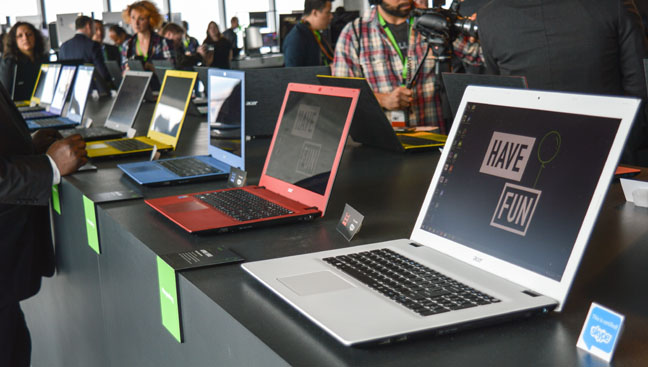 Technicolour tech: A selection of Acer E series laptops
Acer is back in black. Chen turned the company around within his first year since taking the helm, and he doesn't do false modesty. Nor is he interested in scientific vanity projects, unproven tech or unfamiliar markets. Chen is interested only in stuff that he feels sure he can sell.
His influence was clear from the lack of surprises in the launch line-up. New notebooks, check. New tablets, check. The promise of new kit for gamers, check. More projectors, improved home NAS boxes, the inevitable wearable tech (not quite ready, natch')... check, check, check.
The products do look different, though, as a result of user experience boffins getting more involved in the industrial design, but more on that later. The company has even grown bored waiting for a lucrative Internet of Things (IoT) market to evolve and so has written its own open cloud platform for IoT developers.
More surprising was the vehemence of Acer's commitment to Windows 10 on all platforms – even for its tiny smartphone portfolio, which is all set for a bigger push in North America this year. Not only does the company plan to put Windows 10 on its machines before anyone else, Chen said if you buy a Windows 8.1 notebook now, he'll give you a free upgrade to 10 later.
This is despite Acer having produced the top-selling Chromebook of last year, effectively tripling its Chromebook business. But Chen was adamant: if necessary, he said, "we will be the last man standing in the PC industry".
The keynote over, the world's tech press and "influential bloggers" were finally let loose upon Acer's refreshed product lines for 2015. The Reg was there and this is what we found...
Acer's refreshed line of mainstream notebooks come in a bewildering variety of models. Business users might want to start with the Aspire V15, a stylishly corporate-looking MacBookalike. It comes with the appropriate bells and whistles of a bigger budget: 5th gen Intel Core, NVIDIA GeForce 940M graphics, 16GB RAM, 2TB hard disk and backlit keyboard. There is also a 1TB "SSD hybrid" option.
The Aspire V15 will start at €699 / $599, arriving in Europe in July, followed by North America in August.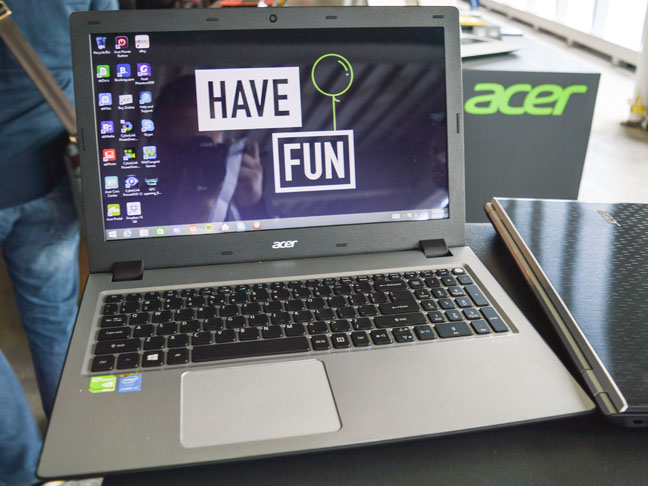 Acer Aspire V15: Absolutely nothing at all like a MacBook Pro – to the right the tasteful, not flashy, subtle, glinting textured effect is achieved with nano-imprint lithography
While it shouldn't really matter, the outer finish of its aluminium case is striking. The effect is the result of nano-imprint lithography and is part of Acer's latest drive to "texturise" the cases of its portable and handheld products. More examples of texturising can be seen in the latest Aspire E Series and ES notebooks.