The Apple Watch: Throbbing strap-on with a knurled knob
Satisfying wristjob - or premature confabulation?
---
Giving notice
Such nearly-useful cases abound. An email arrives, popping up over the clock face. The body consists mainly of a warning that the Watch can't display all of its content. At least you can see a link. You can't tap it, though; the Watch has no browser and although Apple's Handoff system notionally lets you flip tasks between your Watch and iPhone, there's no way to fling a URL to Safari. You just have to open Mail on the iPhone, find the same message manually and tap the link there.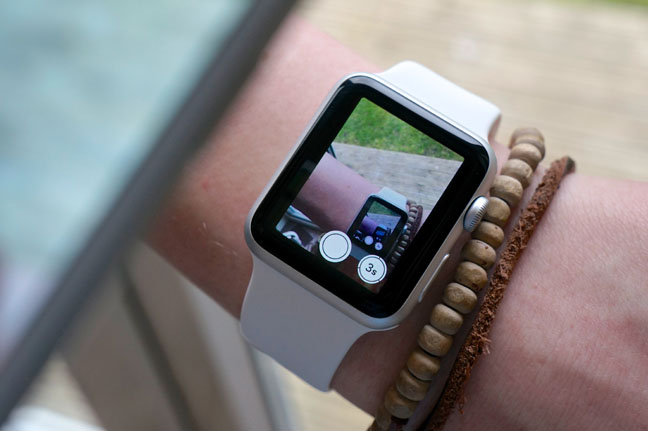 The Watch has no camera of its own but the Camera Remote feature shows the live view from your iPhone's camera on your Watch screen. Take a photo and it's immediately available on your iPhone
Some things work better. Camera Remote, which shows the iPhone's live camera view on the Watch screen and lets you take stills, is fun. Remote lets you control an Apple TV, or an iTunes Library on a Mac. There are alarms and stopwatches and timers, handier than on your phone. You can control a Keynote presentation running on your iPhone or, with a bit of twiddling, on an iPad or Mac.
Open Maps, and you get a small but clear view of your location. A hard press brings up a search function where you can tell Siri where you want to go and get turn-by-turn walking or driving directions, all on your wrist – no more pacing around with your iPhone in front of you like a cartoon detective's magnifying glass. A haptic tap tells you when a turn is coming up.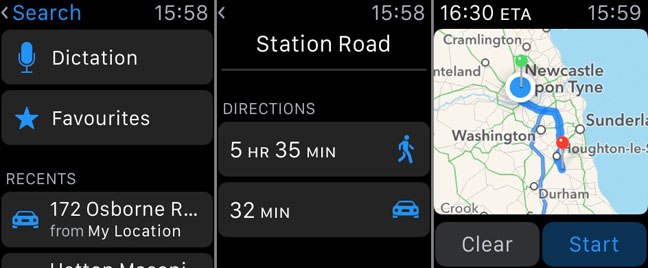 A hard press on the Maps screen brings up a search facility. Since there's no keyboard, you tell Siri where you want to go. Choose between walking and driving directions, and your route appears, ready for you to start turn-by-turn directions, displayed directly on the Watch
This non-visual feedback is helpful even if you're driving, with the bigger iPhone screen automatically showing the route at the same time. And by letting you drop your wrist until a tap tells you to glance at the screen again, it avoids draining the battery even while delivering continuous functionality. The processing is done by the iPhone, so when the Watch is dark, it's idle.
For the moment, every third-party "Watch app" – there are already hundreds – actually runs on your iPhone, which also hosts most of the Watch's settings via the Apple Watch app (you'll need iOS 8.2 or later on an iPhone 5 or higher). Flip the switch here to display any compatible app on your Watch, and it's automatically added to the customisable cloud of icons on the Home screen.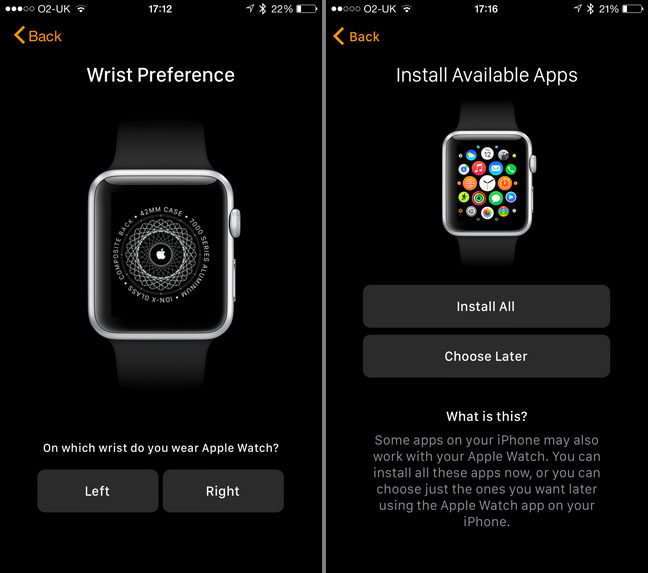 You can wear your Apple Watch on either wrist, either way up and can change your choices later. For the moment, you can't install third-party apps directly on the Apple Watch. Instead, apps that you install on your iPhone can provide Watch features; you can choose in the Apple Watch app whether each of these is installed on your Watch, in which case it appears as an icon on your Home screen.
At least, that's the theory. I found The Guardian newspaper in the App Store's list of Watch-friendly apps, and noted that it was already installed on my iPhone. Sure enough, it was now listed in Apple Watch > My Watch. I tapped it and turned on "Show App on Apple Watch". A message appeared saying it was installing. Then it went away again. No Guardian icon materialised on my Watch. At the time of writing, it still hasn't.
Other apps did appear, but when tapped just told me I needed to do something on the iPhone to create the necessary conditions for them to function. "Games" turned out to be accessories to or subtasks of iPhone apps. There's disappointingly little to play with on the Watch itself.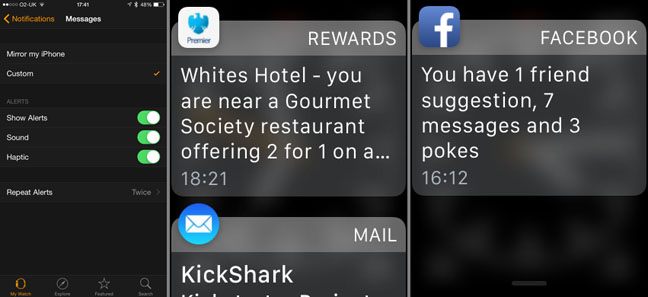 Any kinds of notifications that you receive on your iPhone can be mirrored to your Watch. If an iPhone app provides explicit Watch support, you can make more granular custom settings for its notifications, which is helpful because the same options may not be desirable on both devices
It's early days, of course. A lot of developers naturally wanted to support the Watch straight away, before having had any experience of using it. The iPhone version of Procreate, an excellent drawing app, is a case in point. It uses the Watch not as a canvas but as a tool palette. A nice thought, but once you're wearing it, it's amusingly obvious that you can't use the Watch and iPhone at the same time. It's anatomically impossible.