The Apple Watch: Throbbing strap-on with a knurled knob
Satisfying wristjob - or premature confabulation?
---
Health service
Health is touted as the Watch's killer app. The built-in heart rate monitor, a sort of primitive pulse oximeter based on LED optical sensors, generated plausible readings from my hirsute wrist, give or take a few outliers. These are charted in the Health app on your iPhone, or you can get an instant reading from a Glance. But this data doesn't yet seem to be available to third-party apps. Perhaps the best use of the monitor is for Wrist Detection, a feature that keeps the Watch unlocked and ready to use while it's on your wrist, only requiring your passcode after you take it off.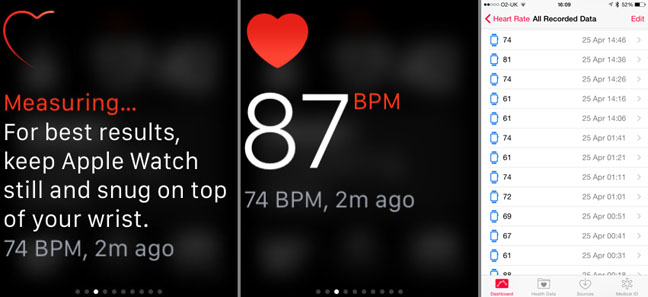 The heart rate monitor takes measurements regularly while you're wearing the Watch and records them in the Health app on your iPhone. You can also get an instant measurement by swiping up from the bottom of the screen to see your Glances and swiping along to the Heart screen
On first setup, the Activity app invites you to enter some personal details and a daily calorie burn target, so that it can measure your performance against this, nag you to stand up when you've been sitting for too long, and ping you periodic updates on your progress. This is supposed to gamify basic fitness for sedentary curmudgeons like me, but I found it just intrusive enough to be annoying and not enough to be motivating. Your mileage, so to speak, may vary.
Sleep monitoring is a big deal among fitness bands but the Watch doesn't offer it, mostly because it's designed to be left charging overnight. This only takes a couple of hours but you're hardly going to wake up and put the Watch back on, and anyway, you might crack the glass on a bedpost in your sleep. Another strike, then, for utility.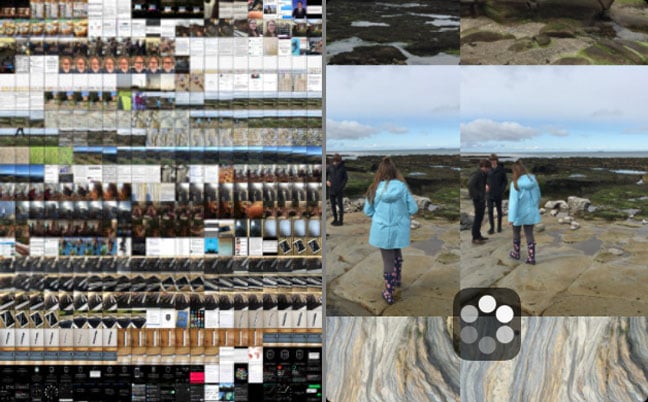 The Photos app initially only shows pictures you've marked as Favorites on your iPhone, but this can be changed from the Apple Watch app. It's easier than you'd think to find the photo you'd want from the zoomed-out view by turning the Digital Crown to move in and out from the centre
If your friends have Watches – or, as Apple insists, "Apple Watch devices", pluralisation of the sacred trade mark being prohibited – you can send them a brief recording of your heartbeat, played back haptically, or a little sketch made with your finger, or an audio message. The real-time "walkie talkie" audio chat feature mentioned during the launch event hasn't materialised so far. This is done from the Friends screen, which is activated by pressing the side button.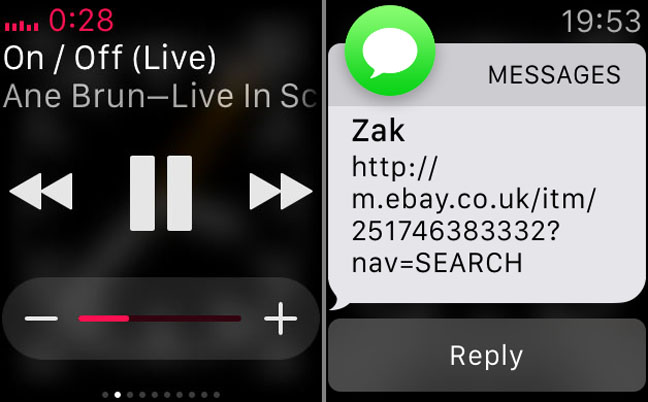 Left: The Music app controls tracks playing on your iPhone. Via Apple Watch > Music on your iPhone, you can also sync one playlist to the Watch's internal storage; a hard press on the Music screen then lets you choose the Watch as the music source and pair Bluetooth headphones to play your tracks while away from the iPhone. Right: There's no way to open links received on the Watch, since it has no web browser. You can't even see pictures in emails, although picture messages (MMS/iMessage) are displayed
That button could have served any number of far more useful purposes. Pressing it could always have taken you to the clock face, while pressing the crown always showed the Home screen, instead of the crown awkwardly toggling both. Or it could have reversed your last tap or swipe, helping to prevent you getting lost. If it had to be dedicated to an address book, it could at least have been complete – but no, it only shows the contacts marked as Favourites on your iPhone.
Any contact can be used when you initiate a new text message or phone call, which really makes Friends redundant. The catch is that because someone at Apple decided there must never, ever be a way of entering an alphanumeric character on the Watch, you can't type a letter or two to go straight to a name, you have to scroll through the whole list.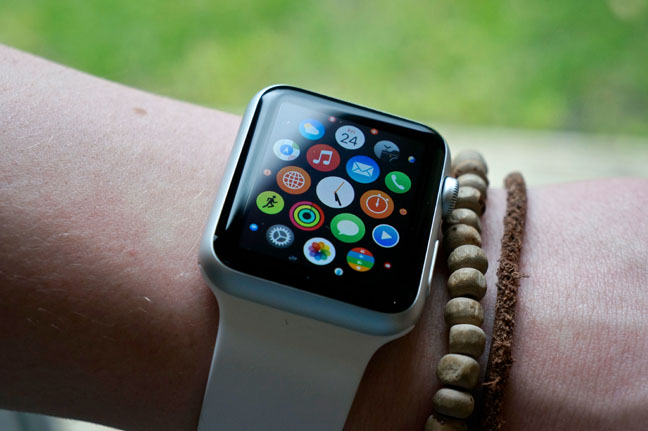 Apple Watch Sport: a good run for your money?
You can reply to SMS or iMessage texts, or send your own from scratch, with a stock response or by dictating a reply to Siri, which can be sent as either audio or text. Picture messages are supported too. For reasons I really can't fathom, none of this applies to emails: the Watch just shows a text-only summary of incoming mail, and offers no outgoing functions.
The Reg Verdict
To me, this feels like a 0.9 product, but a promising one. Apple has answered the critics who doubted a computer company could make a wearable that people wanted to wear: the hardware is objectively gorgeous and, having stopped using a watch ten years ago, I'm quite happy with this one. The display is clear and vivid. Battery life is a barrier to protracted continuous interaction, but for passive notifications, fitness monitoring and ad hoc communication, it's actually fine.
Yet in creating a UI tailored for this miniature format, positing a new psychology of simpler and more fleeting interactions and insisting on attempting nothing that might feel cramped or fiddly, a lot of familiarity has been sacrificed and a lot of dead ends introduced.
Force Touch is a promising new interaction, but like so many of Apple's paradigms it lacks affordance; you can't see if it's available, and when you try it there's a mushy pause before you find out if something will happen or the screen will just bulge and settle back, a particularly unsatisfying form of rubber-banding.
It really is better to get notifications on your watch than in your pocket, but when dismissing them means swiping through them one by one, you can't see graphics or follow links, and the ability to respond is limited, it's hard to see a quantum leap in convenience. As for Siri, making it more central to a more accessible device just throws up all the more scenarios where voice control just isn't practical.
I'll say this for the Watch, though: I'd rather have it round my wrist than Google Glass on my head. I think Apple may have got the big decisions right, given that it's always been good at the fine detail. Now it needs to work on the stuff in between. ®

The Apple Watch: Throbbing strap-on with a knurled knob
Apple's latest mobile device makes its debut available in 38 and 42mm screen sizes and with a variety of straps and finishes
Price:
From £299 (38mm), £399 (42mm) RRP