This article is more than 1 year old
Acer introduces a REVOLUTION in tablet tech: The PENCIL
Affordable fondleslabs, mobes 'n' wearables for the masses
Pics In an earlier article on The Register, Acer revealed its PC plans – but also in evidence at its recent press launch in New York last week was the company's belief that there is still plenty of room in certain market segments for tablets.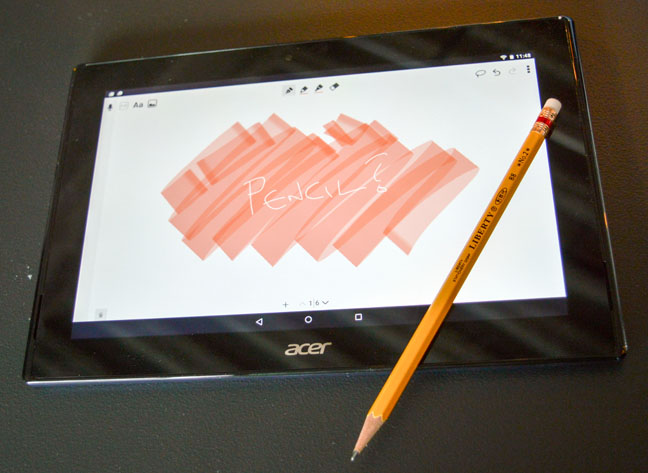 Acer's Iconia One 8: why buy a fancy stylus when you can use the 2mm tip of an everyday pencil?
The Iconia One 8 – an 8in 1280x800-pixel domestic tablet available in 10 colours – runs Android 5.0 Lollipop on an Intel Atom quad-core. It has front (0.3mp) and back (5mp) cameras and a claimed battery life of 8.5 hours of constant usage.
Fine. What is interesting about the Iconia One 8 is the fine-point sensitivity layer built into the screen that lets you use an ordinary pencil as an alternative to expensive Bluetooth-based styluses, or indeed Acer's own Accurate stylus.
Decisions, decisions: should you invest in a dedicated electronic pen or pick up any old blunt pencil that happens to be lying around?
The Iconia One 8 is priced at €179 / $149 for immediate release in Europe, while North Americans will have to wait until July.
Supposedly, this easy writing comes into its own with the 10in alternative, the Iconia One 10 for Education. This model sports a 1920x1200-pixel screen, 2GB RAM and 32/64GB storage options.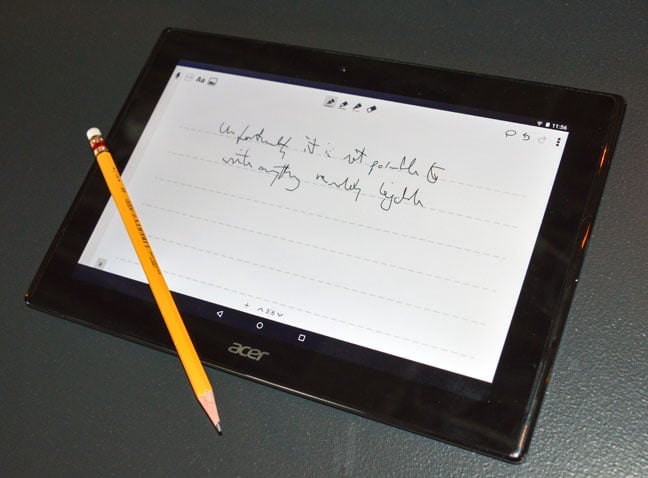 Acer's Iconia One 10: not exactly a speed-writing demon
Acer reckons it could be a winner, but real-world experience of rolling out tablets in schools – in Britain at least – has generally been unfortunate. And for all the clever bit about using a pencil, the performance is slow and we can't imagine taking live notes in class this way.
The Iconia Tab 10 should be released in May, costing from €299 / $299.