IBM: We're the reassuringly expensive cloud
Gartner's first DR-as-a-service Magic Quadrant puts Sungard and Big Blue on top
---
Ahead of Amazon.com breaking out results for Amazon Web Services last week, IBM wrote to let us know that not only does it haul in about US$7.7 billion a year with cloud and software-as-a-service but that it does so with "higher-value, higher profit cloud opportunities" rather than "low-end commoditized cloud offerings."
We mention that stance in light of the debut of Gartner's first ever Magic Quadrant for Disaster Recovery as a Service (DraaS) which, as the graphic at bottom shows, just about puts Big Blue on top.
Gartner reckons that "By 2018, the number of organizations using disaster recovery as a service will exceed the number of organizations using traditional, syndicated recovery services." Hence the new quadrant, which considers three flavours of DRaaS:
Disaster recovery as a service (DRaaS): The service provider manages virtual machine (VM) replication and, optionally, physical machine (PM) replication from the production data center into the cloud, VM/PM activation inside the cloud and recovery exercising within the cloud.
Recovery using infrastructure as a service (IaaS): The customer manages VM replication from the production data center into the cloud, the provider manages VM activation inside the cloud and the customer manages recovery exercising within the cloud.
Recovery using backup as a service (BaaS): The provider manages VM backup from the production data center into the cloud, the customer requests VM restoration (either inside or outside the cloud) and the customer manages recovery exercising (either inside or outside of the cloud).
The new quadrant only considers services that had been operating for a year as of September 1st, 2014. Which explains why the likes of Azure Site Recovery don't get a mention.
On IBM, Gartner notes that Big Blue's DraaS is about as comprehensive as it gets and IBM has extensive services to back its offering. But the analyst also cautions that "IBM's recurring monthly service pricing for VMs and the supporting storage can command a premium over other providers." There's also a warning that "Reference customers cited the need for improvement in IBM's service billing transparency" and another suggesting a "need for improvement from IBM in supporting recovery time SLAs."
Which sounds pretty much like the messaging we were sent: IBM seems to be offering a higher-value, higher-margin service.
Among the other players, the best-positioned player Sungard wins praise for its comprehensive range of DraaS services and impressive multitenancy arrangements, with a little concern expressed about the current paucity of integration with on-premises backup. NTT's ease of use gets a big tick, as does Seagate's arrangements whereby "Virtual CPU and storage capacity can be burst up to 15% beyond the allocated capacity at no extra charge."
That's not unique: the study reports "Verizon's customers can burst as much additional CPU and RAM as they need, to support an actual disaster declaration, at no extra charge."
Verizon also has an interesting arrangement whereby 'little integration exists between Verizon's VDR operations management software and customers' on-premises management utilities". That's a feature, not a bug, as it is designed "to allow … customers to retain full management accountability for their security environment."
Maybe that's given users the experience to suggest "... the need for Verizon to improve its operations security and end-user privacy management."
VMware is considered a niche player and to be in its early days, but wins praise for simple pricing and short – one month – commitment requirements.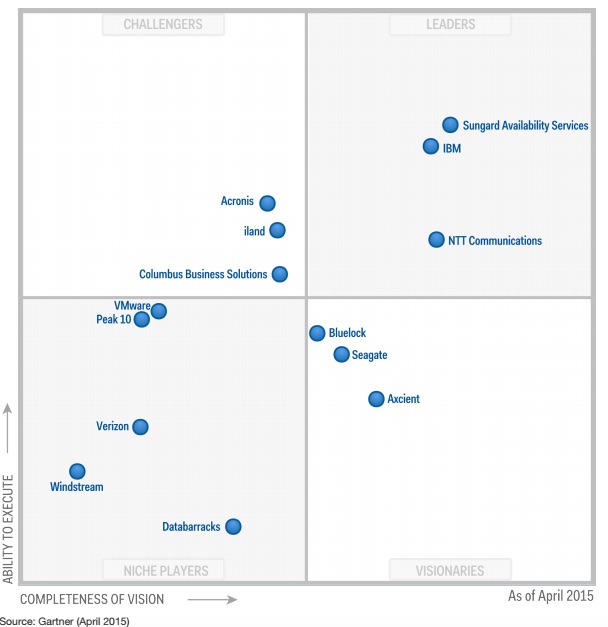 Your correspondent was a little surprised to see Acronis on the Quadrant, but Gartner praises it for customer satisfaction and a good user console. The company's geographic spread is also good – it has three bit barns in the USA and the same number in Europe, plus one with a partner in Japan.
As we've noted above, the quadrant doesn't mention Azure. Which is a pity because Microsoft is evolving its service rapidly. If Redmond had made the list, it might not have gone well as Gartner reckons " … that in many cases, fixed recurring pricing per VM per month can sometimes be prohibitively costly, especially when an in-scope configuration consists of hundreds of VMs"
Per-VM pricing is Microsoft's current play.
IBM, meanwhile, can not only get away with being quite expensive but brag about it. Unless you, dear readers, remind them of the quotes above and ask if they're really worth it! ®