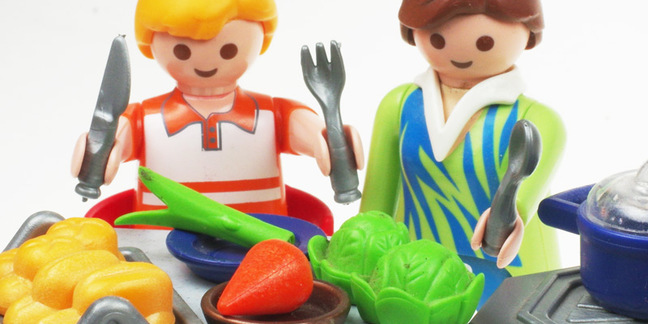 We're pleased to report that El Reg Quid-A-Day Nosh Posse member and 2014 Live Below the Line veteran Toby Sibley has resurfaced, fuelled by a vastly superior diet to that which saw him subsist on a meagre 780 calories per day last year.
Toby did the challenge in the immediate run-up to his getting hitched to Rosalind Griffin, and his missus-to-be expressed doubts that he'd spent his £5 budget wisely. Indeed, by day four he reported: "Starvation is certainly on the horizon. I just hope I don't end up doing a girly swoon during the wedding ceremony due to a lack of calories. I'm currently thinking more about the wedding lunch than the ceremony itself."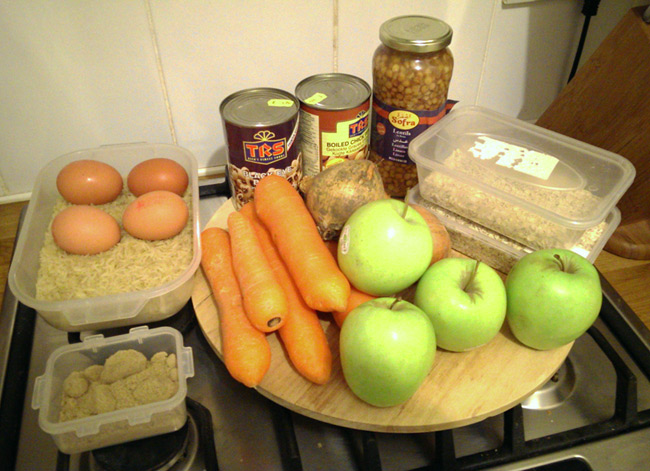 A recipe for starvation: Toby's 2014 stockpile
Reflecting on the experience, Toby told us yesterday:
My attempt last year was pretty much a failure and just relied on my willpower not to run amok in a McDonald's stuffing my face despite being pretty darn hungry. As a good project manager I decided that this year I would hold a 'lessons learnt' session with the (now) wife to identify where did it all go wrong. The main themes that contributed to my failure appear to be:

1) I did not know what I was doing
2) I did not listen to my (then) betrothed

On reflection the main lesson is to listen to the wife. Well, that is certainly the lesson that the wife thought I should learn.
Mercifully, Toby has taken this sound advice on board. To ensure her other half has sufficient energy for a planned wedding anniversary jaunt to Paris later this week, Rosalind first joined the Nosh Posse herself, then helped assemble this rather more impressive stash: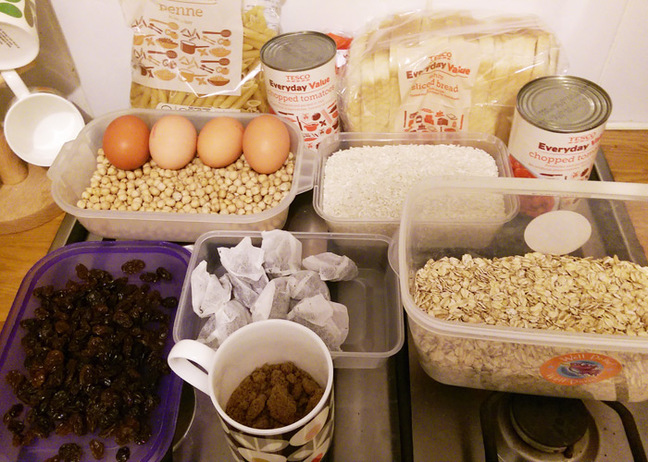 That's more like it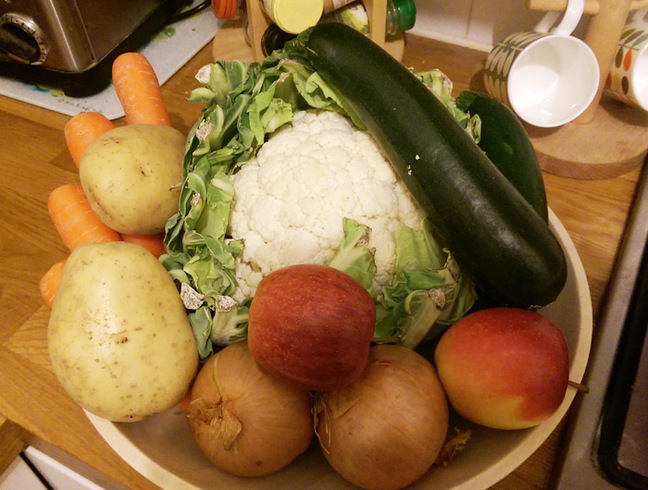 And green stuff, too
Toby noted: "One of my money maximisation plans was to shop for bargains in the historic East End Roman Road market. This image should reassure anyone concerned about the creeping gentrification of the East End that the market still holds true to its working class roots and provides a source of cheap food for the masses..."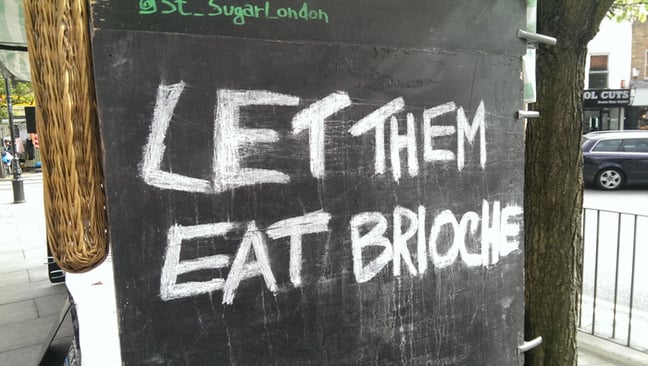 Gawd bless yer, Marie Antoinette
Sadly, not even Toby and Rosalind's judicious use of their combined £10 budget allows them to indulge in such luxuries, so they'll just have to wait until they arrive in Paris to stuff their faces with enriched French bread.
In the meantime, they're starting frugally and holding back supplies for a couple of blow-outs later in the week. Here's the couple's extravagant first supper, which is a kind of brioche, albeit without the extra butter and eggs: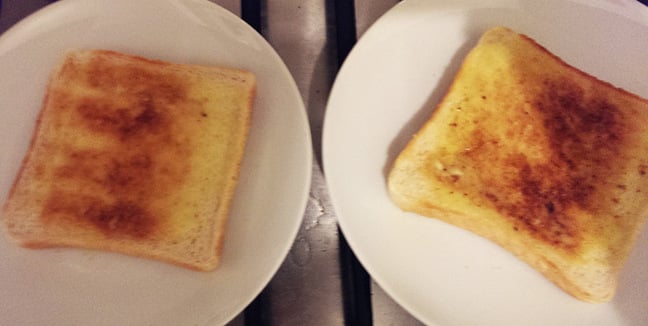 Pain au Quid-A-Day Nosh Posse
Lovely. The rest of the Nosh Posse is in relatively rude health, as far as we can tell. Neil Barnes is getting taunted at work by colleagues waving cake at him, as happened last year, but he's staying strong. Last night, he and better half Anita Wegner tucked into spaghetti with tomato, and rhubarb pie. "I am no pastry chef," he admitted: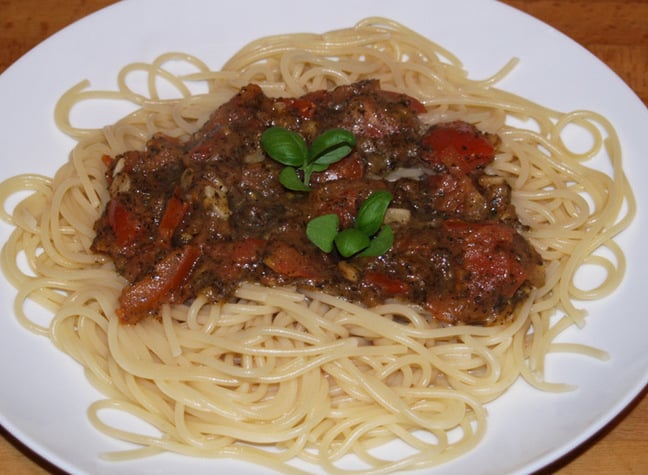 Looks plausible enough...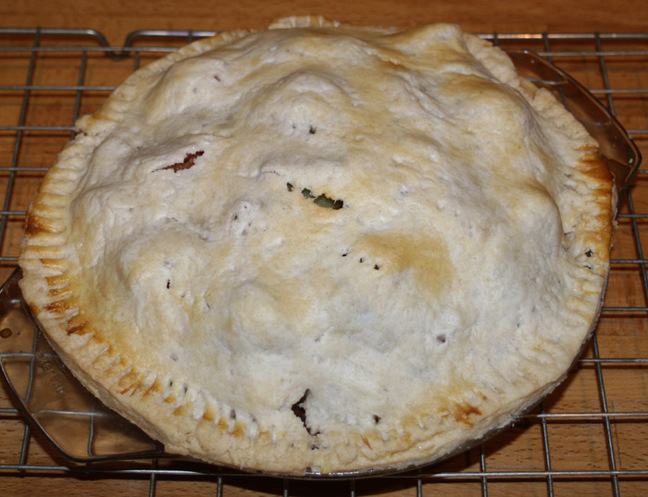 ...but here's the proof that Neil is indeed no pastry chef
The spag/tom recipe is an adapted version from Neil's own tenner a week cookbook (ePub version right here). Profits from sales go to Malaria No More UK, as does everything we raise during this week's challenge. Consider supporting the cause right here.
We'll bring you a further report later today on how Nosh Posse members Nathan Dennis and US-based Richard Jacob (and family) are getting along. Expect tinned fish and waffles...®
Sponsored: Ransomware has gone nuclear