Range Rover Sport: Like a cathedral on wheels, only with comfier pews
Sir Christopher Wren would have approved
Vulture at the wheel It's all about the headrests.
Forget the 4.4 litre V8, the defining feature of the Range Rover Sport is the driver's headrest. It's an analogue for the rest of the car: supremely comfortable and cosseting.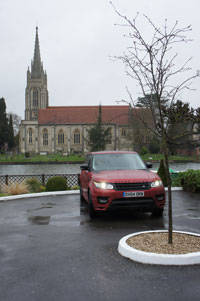 It's a bit fraudulent to review the "best four by four by far" without taking it on as much as a dirt road, let alone a tor, but during our week with the car there was no off-road opportunity, a trip to a posh hotel had to do instead.
The reason people buy cars in the Range Rover league is not what it does, but how it makes you feel, and this car makes you feel important. The Range Rover bumper sticker of "As a matter of fact I do own the road" may not come as standard, but the feeling of self-importance does. It feels much more luxurious than the competing X5, Q7 or Cayenne. There is a huge selection of leathers and woods, with the review car having "ebony seats, ebony, lunar and cirrus interior, with dark engine turned veneer". The seating position lets you look down on little people.
It's a bit like being in a posh bar at the top of a skyscraper. The wonderful ambience combined with views give you a sense of awe. But when it moves, perhaps it's more a cathedral on wheels.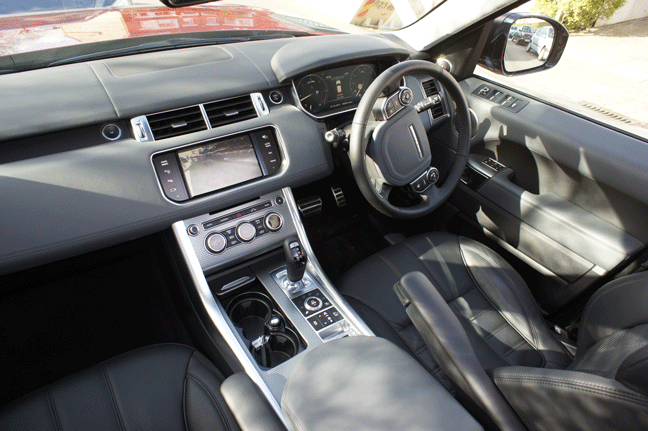 There is a magical, cossetting, secure, feeling about being inside a Range Rover
This all makes the "Sport" part of the name a misnomer. There is nothing vaguely sporting about the car. Maybe if your comparison is a Defender 110 or Range Rover Classic you might think that something which does 0-60 in 6.5 seconds is sporty, but there is more to that moniker than pure grunt. Although there is, however, a lot of that: 334bhp (339PS) and – much more significantly – 546 ft lbs (740Nm). These are numbers big enough to easily cope with 2.4 tonnes of car, all kept in check with suspension comprised of aluminium double wishbones and multi-links, height-adjustable air springs and continuously variable dampers, but it's not as wafty as that might sound. However, it makes light work of sleeping policemen and I was reminded of driving a (pink) Rolls Royce Silver Shadow over rumble strips which it didn't seem to notice and thinking "yes, traffic calming is for poor people".