Range Rover Sport: Like a cathedral on wheels, only with comfier pews
Sir Christopher Wren would have approved
---
Of course, it's big, so there is some roll and understeer. The brakes also didn't feel that sharp, but complaints from passengers might indicate that they might have felt differently. There is a little bit of dive under braking, but given the mass and height it's controlling, it's all very impressive.
The slitty LED lights give the Range Rover a great aggressive look to the front and it's big. Really big. At 4.8m long, over 2m wide and 1.8m tall there is great road presence, helped by the Firenze Red paintwork. Parking gadgets which are nice to have on smaller cars become essential. And the Range Rover Sport does them exceptionally well.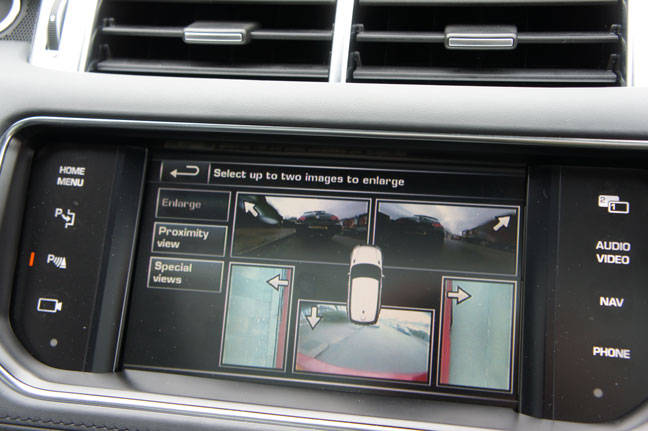 Cameras in the front and mirrors help with the substantial challenge of parking
Five cameras all around give a faux bird-eye view. Cameras on the front corners let you see where the edges of the car are as you negotiate tight bends, and of course there are beeping proximity sensors. With all these aids I still wasn't able to park in Tesco's car park, just negotiating the turns was quite heart-in-mouth, and while I might have got it into a space I didn't think I'd be able to open the door after I had done so. Range Rover owners should stick to the farm shop or Ocado. Remember to order one of those small bottles of champagne. They fit nicely in the fridge between the driver and passenger.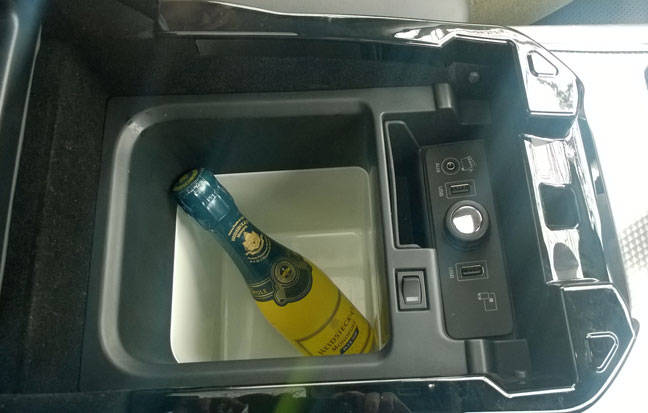 Now, to try and get the champagne through on expenses...
Perhaps the spookiest feature is the "perpendicular park assist". This is automatic parking. Sidle up next to the space where you want to park and press the button next to the touch screen. The car will then take control of the steering while using the sensors to work out how to get the car into the space. You control the accelerator under prompts from the system, but watching the wheel spin expertly takes some getting used to. This is a £900 option, but it's such a great party trick that it's a box you'd be mad not to tick.