SanDisk goes nuclear with its Fusion flash card range
Slashes prices, switches from Micron flash to its own tech
SanDisk has announced third-generation ioDrive PCIe and mezzanine flash cards, claiming up to a fourfold price performance improvement, with up to a 61 per cent list price reduction over the previous generation Fusion ioDrive 2/Atomic product.
Fusion-io and its ioMemory technology was bought by SanDisk for $1.1bn in June last year. Since then, flash technology has proceeded apace with smaller geometries and denser dies, meaning more flash capacity can be placed on a PCIe flash card, performance raised and/or prices cut.
The previous cards are the SX300 (1TB-6.4TB capacity range) and PX600 (1TB-5.2TB range) PCIe cards - previously the Fusion-io ioDrive 2 cards - built with 20nm cell geometry and Micron MLC flash.
SanDisk is using its own flash chips in the cards – 19nm MLC tech, we think – which have no overall increase in capacity. The refreshed product range looks like this:
SX300 and new SX350 Series – 1.2TB-6.4TB capacity range, for:

Mixed-use workloads – virtualisation, databases, business intelligence and real-time financial data processing
Read-intensive workloads – web hosting, data mining, seismic data processing, content caching, 3D Animation and CAD/CAM

PX600 Series – 1TB-5.2TB range – mixed-use workloads such as virtualisation, databases, business intelligence and real-time financial data processing
Mezzanine Series for latest HP Gen9 and Gen8 BladeSystem servers and Cisco UCS B-Series Blade Servers – for virtualised environments, where the cards help support more virtual machines per server and accelerate database mining and business intelligence
There are also bundles of the new cards and FlashSoft caching software. This software reduces I/O latency in vSphere, Windows Server and Linux environments compared to that of non-cached SSDs.
The updated SX300 is faster than the old range:
To 350,000 random read 4K IOPS instead of 215,000
To 385,000 random write IOPS compared to 300,000
2.7GB./sec sequential read bandwidth – it was 2.6GB/sec
Up to 2.2GB/sec sequential writing, compared to 1.2GB/sec
Latency at 92µ/15µ read/write is identical.
The New Fusion ioMemory™ PCIe Card and Mezzanine Application Accelerators
The SX350 is identical to the SX300, except that its sequential read rate is 2.8GB/sec and it has lower read latency at 79µ.
The souped-up PX600 is faster than the previous product on IOPS but not sequential bandwidth:
To 350,000 random read 4K IOPS instead of 330,000
To 385,000 random write IOPS compared to 375,000
2.7GB/sec sequential read bandwidth and up to 2.2GB/sec sequential writing, as before
There has been no PX600 latency improvement.
SanDisk is stressing the reliability of its cards with, for example, the SX350 having an UBER of 10-20 where UBER stands for Uncorrected Bit Error Rate.
We are told the new PCIe cards have double the random read performance of the old ioDrive 2 products. For example, the updated Mezzanine cards have up to two times higher performance, 33 per cent more capacity and lower-latency data access compared to the previous ioDrive2 Mezzanine cards.
Here's tabulated performance data for the refreshed range: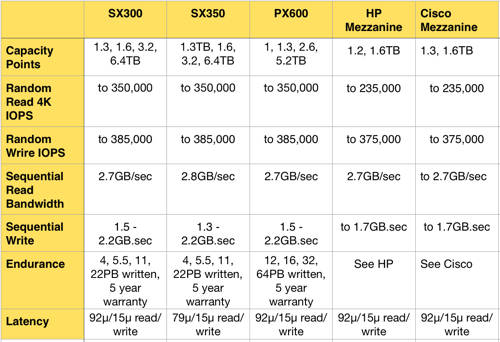 SanDisk says each card is optimised for mixed-use or read-intensive workloads and can also be paired with SanDisk's recently announced next-generation FlashSoft caching software.
There is an updated Virtual Storage Layer (VSL), which provides direct memory access, minimises latency and maximises application throughput, but no details were provided.
We reckon that this update is part 1 of a 3-stage process. The next steps will be to move to smaller geometries and also to increased capacities with 3D NAND.
The new product portfolio is available immediately for customer qualification. It is also available through the SanDisk Enterprise Reseller Partner Programme for SanDisk Commercial Business Channel partners that resell select SanDisk data centre hardware and software stuff.
No specific pricing info was provided.
Check out SanDisk product overview and datasheet info on the refreshed range here. ®