Barracuda Networks reported a satisfyingly chunky revenue rise for its final 2015 quarter and full year, ended February 28, but losses dove unexpectedly deep due to taxation manipulations.
Revenues for the fourth fiscal 2015 quarter were US$72.2m, up 19.7 per cent on the year-ago's $60.3m, and 2.6 per cent higher sequentially. Full year revenues of $277.4m were 18.7 per cent up on 2014's $233.8m; all richly satisfying for CEO and president BJ Jenkins, less so the net income numbers.
There was a spectacular loss of US$68.4m in Q4, compared to a US$3m profit a year ago, and a trivial US$36,000 loss in the previous quarter. This screwed full year profitability: it lost US$67.5m, contrasting with the prior year's $3.6m loss.
But don't worry, there wasn't severe pricing pressure, and cost-controls didn't fall off a cliff. Instead, Barracuda said the "loss was primarily due to a one-time, non-cash charge of $67.7m to establish a deferred tax asset valuation allowance."
If we look at Barracuda's non-GAAP numbers, which bypass this tax asset stuff, net income for the quarter was US$3.7m and, for the full year, US$15.1m.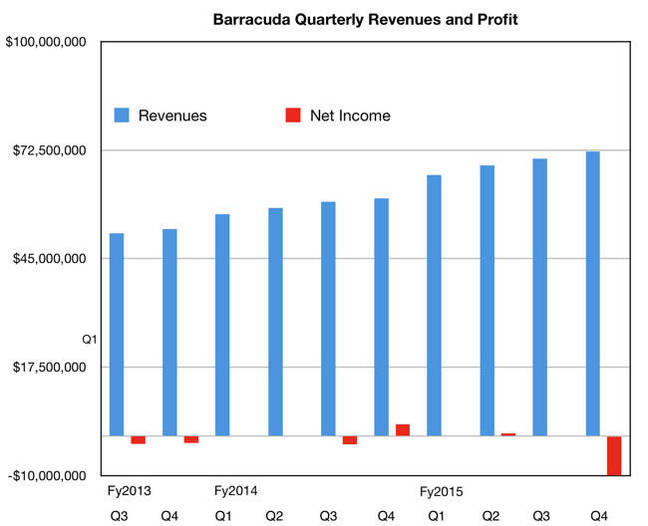 Barracuda's quarterly revenues to Q4 fy2015
More nice numbers: gross billings were US$96.1m, a 17.2 per cent growth from the prior year, and more than 20 per cent growth on a constant currency basis. For fiscal 2015, gross billings grew 17.5 per cent to US$364.3m, up from 2014's US$310m.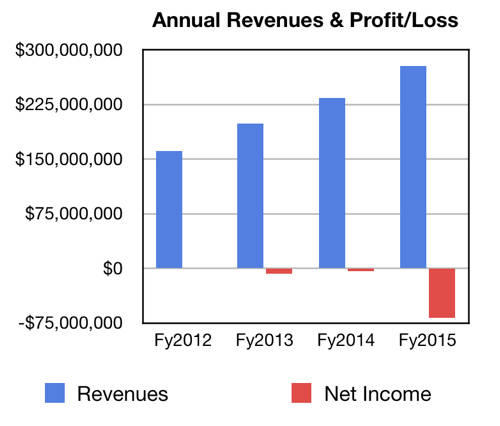 Barracuda's annual revenues to fy2015
In canned quotes CFO David Faugno said: "We achieved record revenue and billings in the fourth quarter and for the full year." Jenkins added: "We now have more than 243,000 active subscribers, accelerated the growth in multi-product customers to nearly 35,000, and the number of Barracuda Shops grew 41 per cent to almost 11,000."
Things look bright for Barracuda and its cloud-connected security and storage product/services business. This fish is looking gleaming and confident as it swims through the IT sea. ®