This article is more than 1 year old
Samsung Electronics' sales go OVER A CLIFF
Petitie profit pump provide parachute, but didn't open in time to prevent a nasty landing
Samsung Electronics, the phones-and-chips-and-tellies arm of the Chaebol, has reported a nasty set of numbers for 2015's first quarter. Let's go straight to a slide from the earnings call to show you just how nasty it is.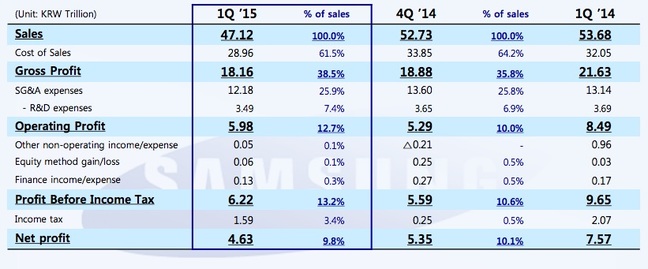 Samsung Electronics Q1 2015 results. Click here to embiggen
Those results are in trillions of Korean Won. A trillion Won is about US$936 million, so Samsung Electronics remains a mighty entity hauling plenty of cash through the door. And there's some good news there in the form of slightly increased profits, even as sales fall. Indeed, the Q1 2015 profit is the largest since last year's second quarter.
But when one drills down into sales by product category, as our very own Neil McAlister of Vulture West has done on the spreadsheet below, it becomes clear that Samsung's chip business is doing alright but the rest of its outfits – with the exception of displays – are in some rather deep doldrums.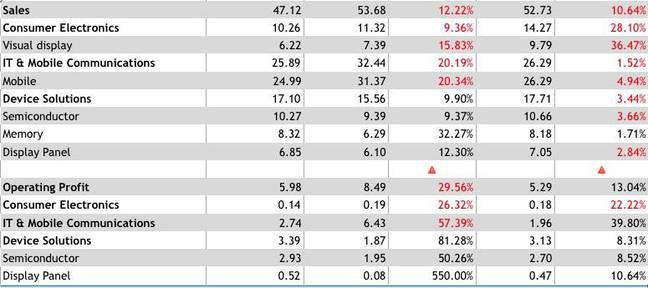 Samsung Electronics Q1 sales breakdown. Click here to embiggen
The IT and Mobile segment really copped it: profits are down 57.4 per cent compared to last year, and sales are off by 20.3 per cent even though handset shipments rose.
Samsung execs on its earnings call were upbeat, suggesting a better second quarter can be expected and expressing optimism that Galaxy S6 sales will be one of the main drivers in that improvement. Memory sales are also expected to make for a better set of numbers next time around.
Another reason for optimism, according to Strategy Analytics, is that Samsung is once again the world's top mobile handset-seller, with 24% share on sales of 99 million devices. Apple's market share jumped from 11 to 14 per cent in the quarter. ®