A teardown of the Apple Watch has found that Sir Jony's arm candy costs a grand total of $83.70 to build, apparently.
Research house IHS estimates that the total bill of materials for each California wristjob is about a fifth of the $399 starting retail price: the team found that the hardware in the latest iThing carries a cost of $81.20, while assembling each gizmo costs $2.50, we're told.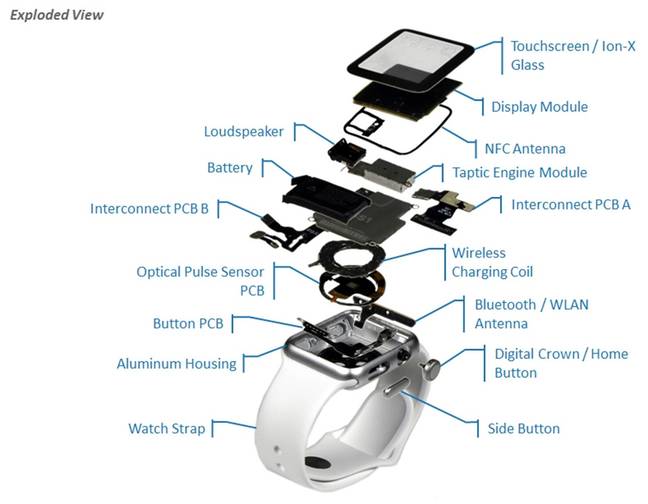 The Apple Watch, piece by piece
"It is fairly typical for a first-generation product rollout to have a higher retail price versus hardware cost," said IHS analyst Kevin Keller.
"While retail prices always tend to decrease over time, the ratio for the Apple Watch is lower than what we saw for the iPhone 6 Plus and other new Apple products, and could be of great benefit to Apple's bottom line if sales match the interest the Apple Watch has generated."
The teardown found the touchscreen ($20.50) was the most expensive part of the device, followed by Apple's custom system-on-chip processor ($10.20), and the 512MB of RAM and 8GB of flash ($7.20). Power management electronics cost $5.50, as did the audio circuitry and NFC sensors combined. The WLAN hardware and gyroscope/light sensors each cost $3, while the battery pack costs $0.80. The box and charger cost Apple $9. All other hardware adds up to $16.50.
IHS' teardown was of an Apple Watch Sport wristslab. Other models made out of steel or gold would obviously carry a higher cost for materials.
While Apple has the right to charge whatever it wants – and, crucially, development costs have to be recouped – the premium attached to the Watch is rather eye-popping, especially considering how much more Tim and Sir Jony are charging compared to competing watches.
Last week, DIY site iFixit went a step further and tore the iStrap down piece by piece. Funny enough, the Watch you can't write software for is significantly easier to repair than Apple's latest MacBook model, winning over a relatively solid 5/10 repairability rating.
If you want to buy an Apple Watch, Cupertino is taking orders for units due to arrive around June. ®
Similar topics