This article is more than 1 year old
TomTom MyDrive brings satnav syncing to PCs and mobiles
Now you can see how late you'll be - on your own device
Pics In Amsterdam yesterday, TomTom finally joined the dots on its consumer navigation portfolio with the launch of MyDrive. With the rise of smartphone navigation or journey planning on the desktop, TomTom's new service combines these methods with its own Go series of satnavs, enabling synchronisation between devices.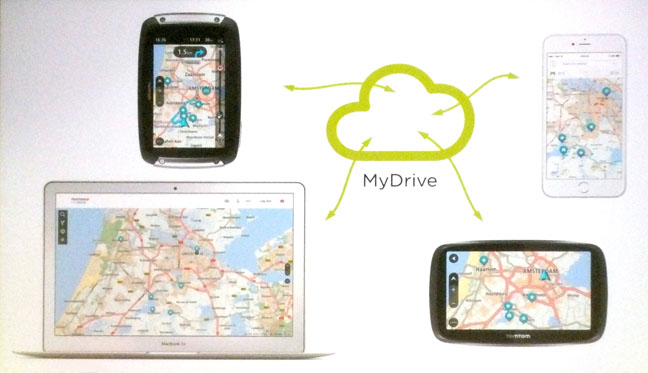 TomTom's MyDrive cloud sync set-up works across a range of devices
The idea is a recognition of user habits – who wants to fiddle around with the satnav in the car to find out how long a journey will take? Or as Cees van Dok, TomTom head of user experience design put it: "Why wait to get into the car to see how miserable the traffic is out there?" Yes, indeed, you can work out your misery in advance and perhaps decide to take the train instead.
Presumably giving up on the car is not quite what TomTom has in mind. Rather it wants to make it easier to do what a lot of us do already when it comes to journey planning. MyDrive enables destinations to be saved as favourites and shared among devices and – as demonstrated on the stands at the event – whatever you get up to on one device will be reflected on the others, with the sync being instantaneous.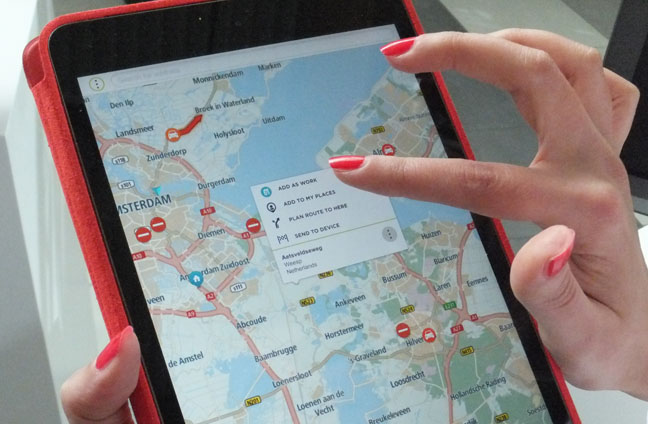 Journey planning on a tablet. Put in an arrival date and time and you can even be advised when you need to leave
With a new mapping web portal to play with, existing TomTom satnav users can log in and start planning journeys. And more significantly, despite the release of the new 510, 610, 5100 and 6100 satnavs, all Go series users can take advantage of the MyDrive Cloud features, with free software updates available now.
On offer as an enticement to buy into a dedicated satnav is lifetime World Maps and lifetime speed camera updates. The app for mobile and tablet use with MyDrive functionality isn't due until later this May, but until then you can access the maps on these devices from a web browser.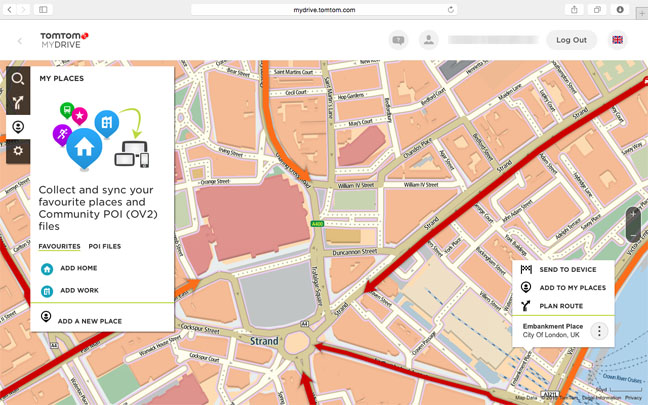 MyDrive maps on a browser. Curiously, TomTom doesn't put in any transport hub icons. There's nothing for Charing Cross or Embankment stations (bottom right) nor Leicester Square (top middle) – click for a larger image
TomTom is opening up this platform to third-party developers through its Bridge Portal, which may deal with some unresolved issues. The elephant in the room is, of course, access to your own contacts, as you can do with Apple Maps – based on TomTom's own data – and Google Maps, if you let it at your address book. Access to contacts is still a work in progress, but is coming. For now, it's copy and paste or type it in, and likewise for any destinations – such as a restaurant or theatre – found on websites.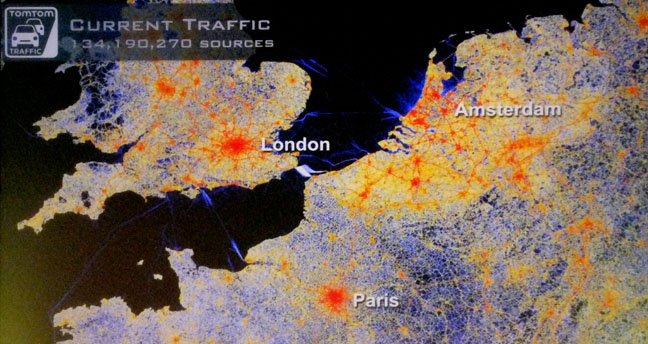 Big Data: Real-time traffic sources on a continental scale
The great and the good from TomTom talked up its traffic information, with the company's co-founder Pieter Geelen claiming that it was handling up to 1bn measurements per hour, provided by its users volunteering anonymous GPS information.
All this helps monitor aspects such as traffic flow speeds against known/typical speeds, which can then feed back to drivers with respect to journey time estimates. Something that enables its arrival time calculations to be considered by many as "creepily precise", according to Geelen.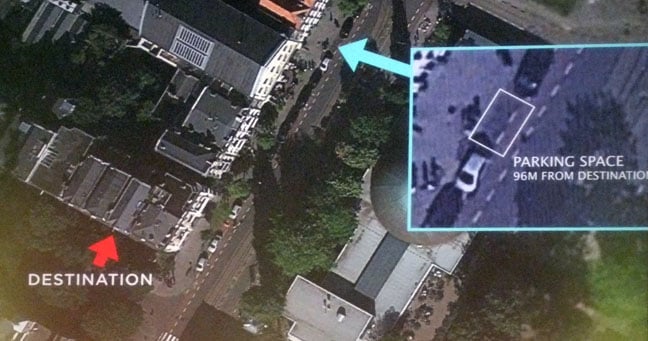 Real-time satnav imagery: Not for snooping, honest. It's for parking
Arguably creepier still was Geelen's suggestion that real-time satellite images of routes will become a reality. Why? To find a parking space, of course. Finally, the killer app for satellite imagery... watch this parking space. ®