A New South Wales road safety initiative, featuring a video in which females suggest that Down Under's boy racers are somewhat lacking in the trouser department, has been hailed as "one of the state's most successful anti-speeding campaigns" according to the Sydney Morning Herald.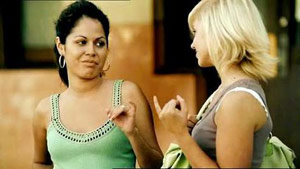 Two Sheilas give their opinion of boy racers' credentials.
The vid in question - dubbed "little pinkie" and part of the multi-pronged "Speeding: No one thinks big of you" media assault on motorised tearaways - shows a selection of unimpressed Sheilas waggling their little fingers in response to some automotive posturing.
As the SMH helpfully explains: "The gesture is used in youth culture to indicate a small penis."
And strewth, it appears to be working. Some Roads and Traffic Authority research found that "three-quarters of people believed the campaign increased community awareness about speeding", and "61 per cent of young males surveyed for the research believed the campaign had the power to make them think about their own driving behaviour".
Roads Minister Eric Roozendaal noted that "young people were also re-enacting the gesture demonstrated in the $1.9 million campaign", adding: "Wiggling your pinkie has cut through to that crucial age group of young drivers - they're using it as a way to slow their mates down and stop them acting recklessly on our roads."
Roozendaal concluded: "This campaign is about saving lives - not pride. If it dents a few egos but helps save a life, then it's worth it." ®