Build 2015 Microsoft has released preview Build 10074 of Windows 10 at its Build developer event in San Francisco.
It is only a week since the previous preview build (10061) arrived, but this one is a milestone available even to users who prefer to stick with the more stable releases – the "slow" update cycle in Windows Insider terms. This also means you can get an ISO image for a clean install.
Windows 10 is set for release this summer, according to Microsoft, with AMD CEO Lisa Su letting slip that it may be done by the end of July. Not long to go, then.
Your humble Reg hack did a clean install, and immediately encountered a key feature: the ability to log into Windows with an Office 365 account. If you are installing Windows Pro, you are prompted during setup to state whether the PC belongs to you or your company. Choose the former, and you log in with a Microsoft account, such as is used for Outlook.com or consumer OneDrive.
Choose the latter, and you can log in with an Office 365 account. Old-style Windows domains are still supported, of course, but this third option is now somewhat buried, presumably on the basis that your friendly admin will have this pre-arranged in most cases. The fourth option is a local account not connected to anything.
If Microsoft gets the Office 365 integration right (and it is too early to say) this will be a compelling story for SMEs and other Office 365 adopters.
Build 10074 is a decent improvement over 10061 – though that is in part because last week's release had severe problems, such as the inability to launch Win32 apps from the Start menu. That is now fixed.
There is also a more polished look to key elements, such as Cortana and the Notifications panel, and new features such as fresh system sounds. High DPI displays are better supported. Microsoft is also experimenting with returning elements of Aero Glass – the transparency effects in Windows Vista and 7 – and some users will see transparency in the Start menu.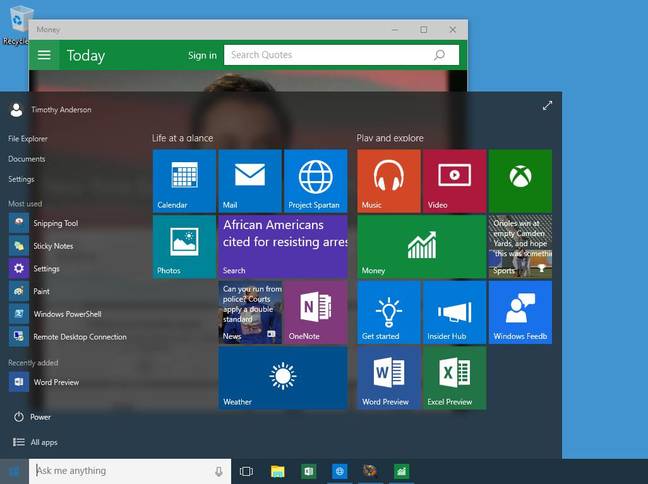 Aero transparency in the Start menu
Like it or not, Cortana is at the centre of Windows 10, though in regions where Cortana is not available you get a search pane instead. Third-party extensibility, demonstrated during the Build keynote, means that voice control via Cortana can fire off actions in other apps.
The Microsoft Edge web browser (formerly Project Spartan) is the only browser in the Start menu, though it includes an option to "Open with Internet Explorer" for use if you run into compatibility issues.
There is a lot happening with Windows 10 when you consider new features such as multiple desktops, Cortana, and Office 365 sign-in, as well as the Universal App Platform (UAP) which enables the same apps to run on PC, Windows Phone and Xbox.
The idea of a seamless experience across different devices goes beyond app compatibility. A concept called "Continuum" includes not only the idea of transitioning from touch to keyboard control if you dock a tablet, but also projecting software on a phone to a big screen such as a TV and using it like a PC.
Further, this is Microsoft's second go at making sense of Windows on tablets, with UAP apps designed to be touch-friendly, and a Tablet Mode that forces apps to run full-screen (or in a split view).
There are hesitations, though. The first is simply whether Windows 10 will be ready in time. The quality of the previews is cause for concern. Even though build 10074 appears more stable than its predecessor, we hit a problem where the Start menu simply stopped working; a browse around the forums shows this to be not uncommon with Windows 10 previews, with some users unable to fix it other than by reinstalling.
Another unknown is how users will take to the new operating system. There is some backtracking from Windows 8, particularly in the return of the Start menu and a more desktop-oriented approach to apps, which now run in a window. Microsoft is keen for the new operating system to be an enjoyable upgrade for Windows 7 users. That said, the look and feel of Windows 10 is considerably different, and the revived Start menu is not the same as that in Windows 7.
Third, Microsoft is still working on the experience for tablet users, which is inferior to that in Windows 8. A problem with Windows 8 is its split personality between desktop and mobile, which can be jarring. Windows 10 risks an opposite problem, that by integrating desktop and tablet experiences it becomes something rather odd, with apps that look like desktop apps but behave like mobile apps, and a tablet mode that does not yet work satisfactorily for devices without keyboard or mouse.
If you want to try Build 10074, you can download the install image here – but it is not recommended other than for testing. Do not use it in production. ®
Similar topics