Not pro-Bono: Russian MP wants Apple to face stiff action for cramming 'gay' U2 into iCrevices
Did he misread 'an album cover' as 'anal bum cover'?
Russian prosecutors have been asked to probe Apple to see if the American giant broke Russia's "gay propaganda" laws by forcibly thrusting ludicrous boy band U2's album Songs of Innocence into iThings.
Alexander Starovoytov, a member of the Russian parliament, was quoted this week in broadsheet Izvestia demanding an investigation following the sudden appearance of the record in iTunes playlists on iPhones, iPads and iPods last year.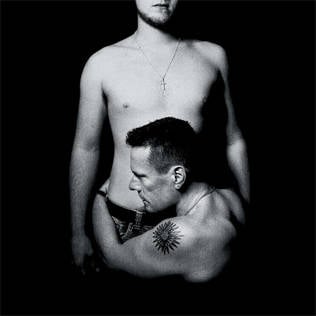 Criminally gay in Russia?
The outraged politician feels the album's cover art of two men – U2 drummer Larry Mullen Jr and his son – embracing was a bit too homoerotic for President Putin's laws forbidding gay imagery.
"I, like many citizens of the Russian Federation, am the owner of an iPhone. In 2014, my iTunes application downloaded songs by U2, where the cover of the album shows a group of two men, in my view, depicting a non-traditional sexual relationship," Starovoytov told the paper.
Russia enacted laws in 2013 to criminalize non-heterosexual "propoganda." The decision was roundly criticized by human rights groups.
Also noted was the fact that Apple CEO Tim Cook is the first CEO of a Fortune 500 company to be openly gay. Cook, who had made a point of keeping his personal life quiet, was "not hiding his orientation," the newspaper wrote.
Apple's decision to push the Songs of Innocence album, dubbed by Cook as the "largest album release of all time," was slammed, though for decidedly different reasons than any imagined homoerotic imagery.
The release, and more specifically Apple's decision to push it to iOS devices, upset punters who had a problem with the world's wealthiest tech corporation slapping content into their playlists without warning or permission.
An apologetic Apple later U2-turned on the idea, and allowed users to wipe the album from their iStuff. ®