Grooveshark closes, blames 'serious mistake' of not paying for music
Suicide note tells punters to use properly licensed services
---
Music streaming service Grooveshark has closed its doors, after admitting hadn't acquired rights to the music it streamed.
The company on Thursday (US time) replaced its website with the statement below.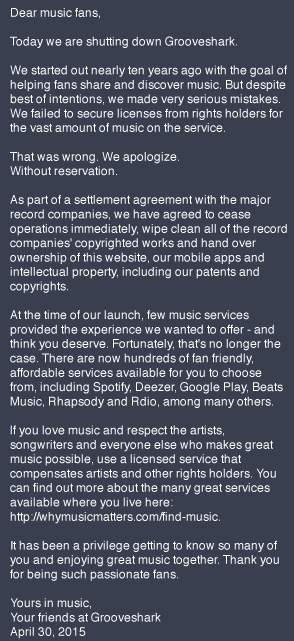 The writing's been on the wall for Grooveshark for some time, as earlier this week it learned it would likely need to find US$750m to satisfy litigants who accused it of piracy on a grand scale.
The company had been trying to go legit for a while, but had run an argument that it could stream whatever it wanted to unless confronted with a formal takedown request.
That argument is now a smouldering ruin as, presumably, is the reported US$4.7m invested in the company over the years.
Streaming music remains controversial, because while the likes of Spotify and Pandora are legitimate, musicians like countrified popette Taylor Swift think it offers a raw deal, royalties-wise.
For the listening public, Grooveshark's demise probably won't matter given the proliferation of legal competitors. Startups who try to "disrupt" markets by flouting laws, however, now have a nasty cautionary case study to consider. ®