Tesla reveals Powerwall battery packs for homes, Powerpacks for cities
Elon Musk: 'No incremental CO2 is the future we need to have'
---
Billionaire biz baron Elon Musk has revealed Tesla's long-expected battery products and claimed they put an end to humanity's production of carbon dioxide as a by-product of energy generation.
"No incremental CO2 is the future we need to have," Musk said, during the battery packs' launch, advocating that charging his new products with solar energy is the way to go.
The battery packs come in two flavours.
The Powerwall is intended for domestic use, is a 130 cm x 86 cm x 18 cm rechargeable lithium ion battery boasting liquid thermal control and capacity of 10 kilowatt hours for US$3,500. There's also a 7 kWh version for $3000. Both can deliver 2.0 kW continuously with a 3.3 kW peak. Tesla offers a ten year warranty on the device and is willing to extend that by another decade.
The 10 kWH model is billed as backup for when the grid goes down, the 7 kWh model is suggested for daily loads. Up to nine Powerwalls can be assembled into a single rig.
Musk said the device can be installed inside or outside a home – its operating temperature range is -20°C to 43°C – and said the Powerwall is compatible with solar power systems. It even comes in several colours, in case you want Tesla's logo and a wall-mounted battery to become a part of your decor.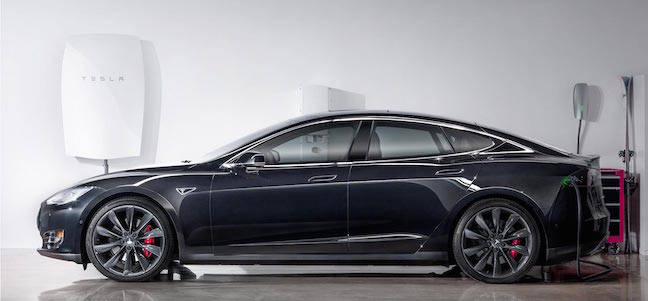 A Tesla Powerwall and Tesla car
The Powerpack is aimed at large-scale installations. Musk said it can scale to gigawatt implementations and depicted one at such size with a nearby group of wind turbines.
There was plenty of Musk's usual optimism on show at the launch, as he proclaimed that all of humanity's energy needs could be met by two billion Powerwalls. That's not a crazy number, he said, because it's about how many cars and trucks are currently in service. We build 100 million more a year, he said, so converting humanity to battery power is a 20-year project.
Tesla doesn't expect it will tackle that task alone: Musk said the company will open-source the IP it is generating during the construction of its Nevada "Gigafactory" that will make the newly-announced batteries. Others will be free to build their own factories he said, and that task will be made easier because the Gigafactory is designed as a "product" that can be rebuilt.
One can order a Powerwall now, from the new teslaenergy.com domain, but shipments won't start for three or four months. A trickle of devices will emerge in the first few month, before the Gigafactory goes online and brings with it a flood.
Will it work?
Will Musk's scheme work? The UK Department of Climate Change's report, Energy Consumption in the UK (2014) says "The average unadjusted electricity consumption per household in 2013 was 4,192 kilowatt hours (kWh), which adjusts very slightly to 4,170 kWh once a temperature factor has been applied to the data." Households also consumed a further 15,462 kWh of gas.
At those consumption rates, British households are going to need more than one Powerwall and maybe contemplate the horrors of an electric stove as well.
The Register has requested an interview to cover other details, such as compatibility with existing 24/48V solar PV systems. ®
Similar topics
Broader topics