This article is more than 1 year old
Poseidon's Wake, Naked at the Albert Hall and Farewell Kabul
Hard Sci-Fi with Alistair Reynolds, Tracey Thorn on singing and more
Page File El Reg bookworm Mark Diston reviews the latest from the literary world with Alastair Reynolds' latest – the final instalment in a sci-fi trilogy. Tracey Thorn delivers an amusing and insightful perspective on the lot of the singer, and journalist Christina Lamb gives a personal account of her life and work in Afghanistan.
Poseidon's Wake
Alastair Reynolds is a physicist and sci-fi novelist, Poseidon's Wake is the third part of the Poseidon's Children trilogy and follows Blue Remembered Earth and On the Steel Breeze.
The first thing to say about Alastair Reynolds is that he doesn't do skinny novels: Poseidon's Wake weighs in at over 700 pages and can only be described as morbidly obese.
The plot follows two expeditions which are mounted after receiving a request for assistance via a message sent from outer space. At the centre of these expeditions are two couples. There's a lesbian pair called Goma and Ru whose life work is to care for sentient elephants called trantors. The starring couple on the other expedition are Kanu and Nissa, who used to be an item and have just indulged in a mutual mercy fuck, which seems to confuse their existences somewhat.
I won't go into the familial connections as there seem to be inter-generational links inherited from the previous two parts of the trilogy. But the premise is basically the retrieval of a lost tribe of trantors from outer space. Goma and Ru want to save them, Kanu and Nissa's motives are less clear, but someone is set on thwarting this reunion with death and mayhem and therein lies the gist of this novel.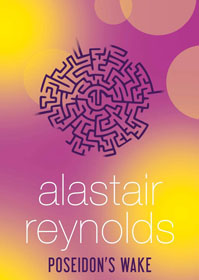 The underlying problem though, is that Alastair Reynolds can't write very well. He is pedestrian, long-winded and ineffective, although there are a few quality nerdy asides: "Physics, with its exponents and Planck lengths and Hubble distances made her feel diminished."
Alastair Reynolds is said to be an exponent of what they call Hard Sci-Fi, which is a rather subjective terminology. The basic premise of talking pachyderms in space is not an issue that either science nor Mr Reynolds seems to have mastered yet. Even the discrepancies in the size of the creatures – compared to the human characters – is not gone into in any great detail.
The author has often been favourably compared to Iain M. Banks, but Alastair Reynolds has no great ability to spark life or humour into his characters and there is no convincing overview such as you find in Banks' Culture novels. Moreover, the tech can be surprisingly vague and obscure: "Tentacular tubes linked them ... glowing corpuscular things shot along their tubes".
Mr Reynolds is well into double figures with his space operas and there is less of the feeling of tiny characters overwhelmed by background tech, as there was in the early Revelation Space novels, but there is too much empty dialogue and a lack of ideas, with what there is revolving around some vague ecological message based on faster-than-light travel. But the main problem is that the story proceeds at a snail's pace.
It is hard to see what the author is trying to achieve here: as genre writing it is a turgid soap which doesn't really go anywhere. Reynolds is, to quote one of his own characters: "A man going through the motions ... knowing he could offer no pervasive argument." Alastair Reynolds would seem to be a greater loss to science than he is a gain to literature.

Author
Alastair Reynolds
Title
Poseidon's Wake
Publisher
Gollancz
Price
£18.99 (Hardback), £9.99 (eBook)
More info
Publication web site