This article is more than 1 year old
Poseidon's Wake, Naked at the Albert Hall and Farewell Kabul
Hard Sci-Fi with Alistair Reynolds, Tracey Thorn on singing and more
Farewell Kabul
Christina Lamb is a Sunday Times journalist who has an association with Afghanistan dating back to the Russian occupation of the 1980s. Farewell Kabul is the story of her relationship with this country. "Afghanistan was filled with stories, and sometimes it felt as if my head would burst with the weight of all its woes," she writes.
Lamb evidently has a passion for the country and the people, despite her book being such an unrequiting tragedy. Even returning last year, she confides: "I miss Afghanistan with a yearning I can't explain."
And it is this passion and a true reporter's nose for the truth or truths which makes this such a great book. As you would expect from this source, Farewell Kabul is an Anglocentric book, a story of British involvement in Afghanistan, so US readers may feel American involvement under-represented. But this is a personal memoir, not a history, though it still works very well as one.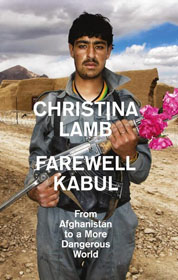 The tale zooms in nicely on some of Lamb's experiences in the field and the storyline, unlike the coalition, doesn't get too distracted by Iraq. Her experiences in Helmand cause her to recall the "lions led by donkeys" phrase of World War One, and the faults are listed; no unity of command, not enough troops. "If we cannot resource properly, we shouldn't be doing it, it was all so amateur and incompetent as a national effort," according to Major Pike of the Paras.
The strange double game played by Pakistan is a tale skilfully told, Lamb eventually tracks down a old ISI (Pakistan secret service) officer who was involved in training the original Mujaheddin and admits to keeping his hand in. He more or less confirms the suspicions of the author's claims of their direct involvement in the conflict.
According to Lamb, the expat scene of Kabul has some great wheezes; Tarts and Taliban and Graveyard of Empires nights. Apparently the bar at the British Embassy is called the "Inn Fidel". Brits abroad: incorrigible as ever.
Humour aside, this is a magnificent and heartfelt book, although Lamb moves in elite circles and counts Hamid Karzai and the late Benazir Bhutto as friends. She is also a compassionate observer of Afghan life. There are diversions to Guantanamo, which a Marine Corps General Michael Lehnert admits is "a blight on our history ... it stands as a recruiting poster for terrorists".
Farewell Kabul is bang up-to-date, musing on the current action in the wars on terror which all seem to be connected in some way to Afghanistan. Ms Lamb was at Camp Bastion for the last post and has visited Kabul since the British withdrawal and decries the worsening security situation.
Farewell Kabul is quite simply the best book that I have read about the Afghanistan conflict. It probably doesn't contain enough footnotes and bibliographies to be a bona fide history, but Christina Lamb presents the whole catalogue of errors committed over recent years in this much-abused country in a very clear, concise and effective manner. ®

Author
Christina Lamb
Title
Farewell Kabul
Publisher
William Collins
Price
£25 (Hardback), £12.99 (eBook)
More info
Publication web site