Munchkin Adventure Time

Munchkin comes in all kinds of flavours, but it was the Adventure Time set that had me throwing my money at my FLGS (friendly local games shop). It's created by game designer Steve Jackson – no, not that Steve Jackson from Britain, the other one from the US – and starts with players choosing a double-sided character card. Each character has both genders so, for example, I can play either Finn and Jake or Fiona and Cake. The aim of the game is to defeat enemy cards that are dealt and eventually reach a certain level before the other players.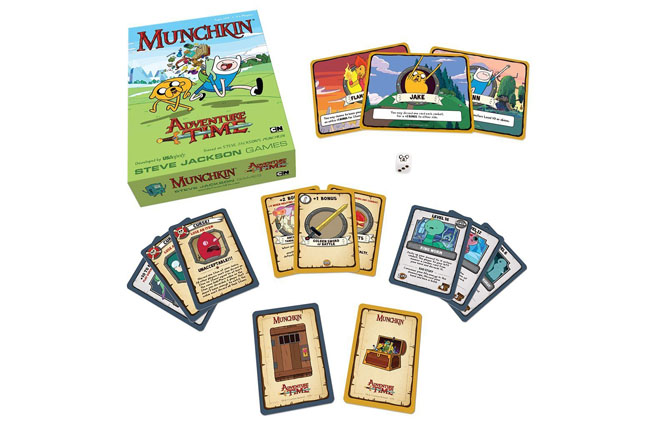 In each player's turn they break down a door by flipping a card, and fight the monster that appears, or if there are no monsters then they can search the room for loot. If I'm lucky enough to defeat the overturned monster, I gain a level and as much loot as is represented on the card.
I am always on the look-out for the Everything Burrito card, which adds an impressive +3 during combat. Players can help or hinder one another by fighting alongside each other, at a cost negotiated by the players before the fight begins. Alternatively, if someone's about to win, get in backstabbing mode by helping out the monsters with extra dastardly sidekicks or backstabby bonuses.
If I'm feeling particularly Hunson Abadeer, cursing another player is also an option, but don't start stabbing everyone in the back or no-one will help you out next time you draw The Lich! A surprisingly solid, simple and quick game, which makes a great gift for a range of ages. It's also great for the pub if you're sick of Cards Against Humanity.
Players/Duration
3-6 players, play time: 30-60mins
Backstabs
3.5/5
Price
£18
More info
Available from
Wayland Games
Saboteur the Card Game

In Saboteur, I am randomly dealt the role of a miner or a saboteur. Each player can play a card per turn which will either be a path through the mine or an action card. The miners are trying to successfully lay a path of cards from the starting point of the mine entrance to the three gold cards, each seven card lengths away from the starting point.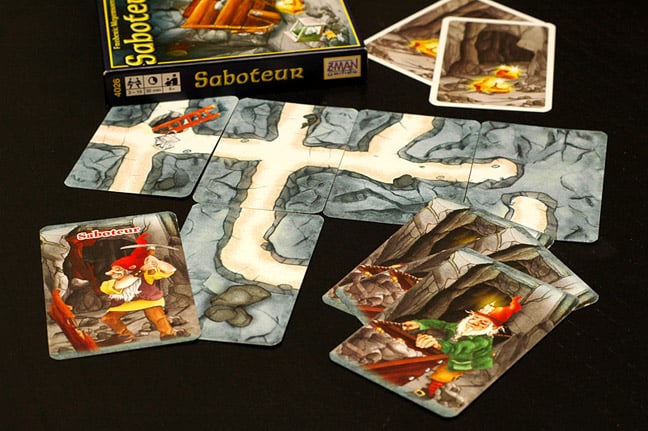 Working their hardest to stop this happening are the backstabbing saboteurs, sneakily making sure the path doesn't meet up with the gold cards to ensure the quest for gold is defeated. Action cards are different occurrences that stall a player until they gain the correct action card that solves the problem. So if I think another player is the dreaded saboteur, I can break their torch and they won't be able to play any path cards until they have a new lamp allowing them to move forward.
This game benefits from having lots of players – the more the merrier – as with just a few players the action can lag. It is in need of a reboot sooner rather than later, as neither the gameplay nor artwork grabbed me. Maybe a 'Bering Sea Gold' version could work with hardened Alaskan miners dredging paths on the sea floor only to be sabotaged by each other's greed – sounds like my new favourite show.
Players/Duration
3-10 players, playtime: 15-45mins
Backstabs
3/5
Price
£15
More info
Available from
Tmart
The Reg Verdict
If you're looking for shout-out-loud board gaming good times, Battlestar Galactica: the Board Game has to be the game of choice and the game most likely to appeal to board game beginners and veterans alike. By the way, all three expansion sets are on my Christmas list (nudge-nudge). Until then, I'm saving up for a copy of Star Wars Armada – just call me Imperial Admiral Lucy, soon to be found at the Helm of Star Destroyer Mr Bitey. ®
Similar topics
Narrower topics