Feature One hunded years ago this week on May 7 1915, a U-boat of the Imperial German navy torpedoed the vast ocean liner known as the RMS Lusitania – with 1,962 people on board over a thousand civilians drowned, including many from the US, which was then still neutral in World War One.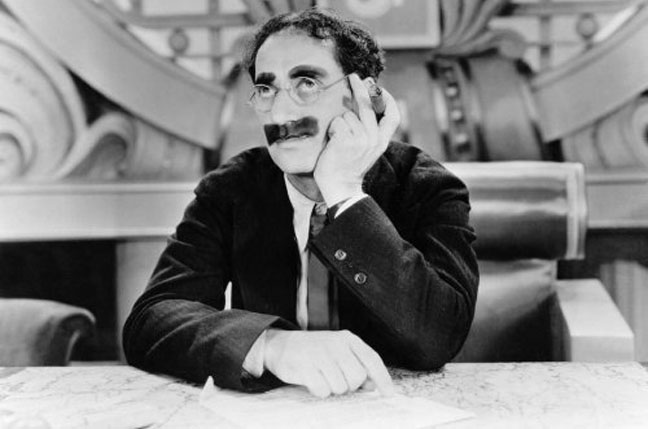 Groucho Marx in Duck Soup (1933) – image: Paramount Pictures
Following the sinking of RMS Lusitania, a wave of anti-German revulsion swept America, as German shops were attacked and their owners insulted – even American actors and comics playing Teutonic parts, or just using German accents, came in for a great deal of abuse.
Which was why, within days, a New Yorker called Julius 'Groucho' Marx – whose own mother was from a German Jewish background – abandoned the mock Berlin accent he'd been using onstage and instead opted for his own natural style of speaking; fast-talking and humorous.
And thus, by a cruel tragedy of war, was born a comic persona that was to essentially invent stand-up – as well as influencing everyone from Bob Hope to Woody Allen to Richard Pryor to Alexi Sayle to Lee Evans…
By 1915 Groucho and his brothers – Harpo, Chico and Gummo, later joined by Zeppo – were pioneering a vaudeville act that was a mixture of slapstick, skits and songs.
They had originally started out as vocal group The Four Nightingales but then, during a particularly bad gig in Texas, they had basically just given up, preferring to joke around with each other onstage. They found, ironically, that this went down with the audience far better than any singing.
They were undoubtedly amusing – what with Chico's OTT Italian accent and Harpo's mischievous mimes – but what finally made them hilarious, post-Lusitania, was Groucho's non-stop gags: joke after joke after ad-lib after joke. He was often risqué but never obscene and, after years of dealing with hecklers, he was a master of the put-down before he was in his twenties:
"…Next time I see you, remind me not to talk to you... I didn't like your play but then I saw it under adverse conditions – the curtain was up... Of course I remember the first time I had sex, I kept the receipt... From the moment I picked up your book until the moment I laid it down I was convulsed with laughter – someday I intend reading it... Go! And never darken my towels again..."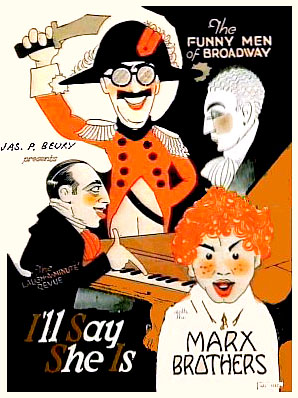 Marx Bros theatre show poster that played in Broadway in 1924
Although a master of expression – and with a fair singing voice – Groucho's sparkling humour was really the heart of the Brothers' act, humour that partly sprang from his own way-above-average intelligence.
He was "born at a very early age", in his own words, on October 2 1890 into a family with musical ambitions but very little money. As the middle brother of five, Groucho needed to earn cash fast – which forced him out of school before he was 13 years old and into several dead-end jobs.
Even so, he was a great reader, and for the rest of his life he was to consume books on a weekly basis, swiftly making him a self-educated man. And as the singing and then the clowning took off, Groucho and co were soon able to make a living from the stage.
Within five years, the newly-renamed 'Marx Brothers' were the biggest stars at New York's Palace Theatre, with three hit shows on Broadway – a record unmatched before or since. After conquering Broadway it was inevitable that the Marx boys would soon be lured to the new film centre of Hollywood.