OMFG – Emojis are killing off traditional 'net slang
Kids these days prefer pics to acronyms says Instagram analysis
---
Emoji are killing off traditional internet slang, according to a probe by Instagram's engineering team.
Instagram's just made it possible to use Emoji in hashtags, a feature we're sure you were all positively clamouring for, and did so in response to its users' increasing interest in the cute little characters that add colour and variety to ye olde emoticons.
How much interest? The graph below demonstrates an analysis Instagram has conducted of its users' emoji use. It shows that "traditional" internet slang – acronyms like LOL for "laugh out loud" - were as common as Emoji in July 2012, but that usage has now fallen by about 25 per cent among that cohort of users. Recent Instagram accounts, the data shows, now use slang in under five per cent of posts but are using Emoji in nearly half of their posts.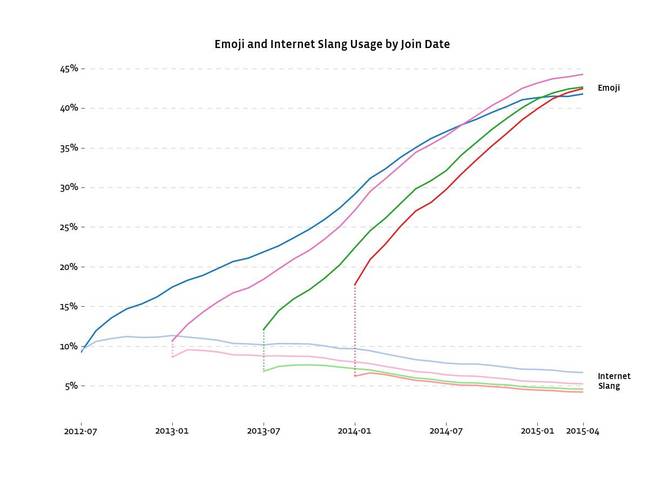 Rates of emoji use vs traditional internet slang, by Instagram joining date. Embiggen here
The analysis suggests that Emoji are replacing older slang, but that some meanings are being retained. An emoji depicting crying with laughter, for example, is analogous to the old-school lolol, lmao, lololol or lolz. A heart ♥ Emoji is used interchangeably with slang like "xoxo", the kissing sound "mwahh" or the simlpe "loveyou".
Instagram's analysis also suggests that Emoji are growing fast, and that before long they'll be present in over half of posts to the service.
All of which surely means we're probably not far off a panic about whether kids these days can actually string a sentence together. ®