This article is more than 1 year old
Apple MacBook 2015: Twelve inches of slim and shiny fanboi joy
And it's optimised for better finger fun
Review As Geddy Lee of Rush once sang – "plus ca change, plus c'est la meme chose". When Apple unveiled the MacBook Air back in 2008 we all scoffed and said that Steve Jobs' slimline progeny was over-priced and underpowered. "It doesn't even have an Ethernet port", came the mocking cry (followed by the entire PC industry doing exactly the same thing with hundreds of over-priced and underpowered Ultrabooks).
Yet here we are today, looking over the redesigned 2015 version of the MacBook. Once again, the accusation is that it's over-priced and underpowered. This time around the darn thing is reduced to just a single USB-C port, which is only grudgingly included so that you can plug it in and charge the battery every now and then.
Slim Pickings
As always, Apple is relying on the craftsmanship of Sir Jony Ive and his team to overcome the knockers. And, in truth, they've played a blinder this time around. The clunky MacBook of old has now been replaced by a 12-inch ultra-portable laptop that measures just 13.1mm thick and weighs a paltry 0.92kg. You can pick it up in one hand with no effort at all, and the weight is so well balanced that you can pick it up while the screen is still open without feeling it toppling backwards.
The aluminium chassis feels really solid too, and despite the lack of cooling fans the MacBook never felt more than lukewarm even while running our intensive benchmark tests.
I was also impressed to see that the keyboard on the MacBook is the same size as that on my 13-inch MacBook Air. My only minor complaint here is that the wafer-thin keyboard panel means that there's not a lot of travel on the keys. It feels a little lifeless at first, but you do get used to it quite quickly.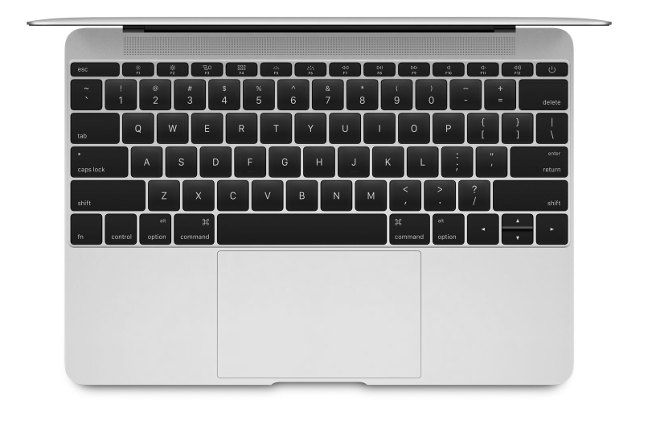 Tippy tap: The keyboard's much thinner and feels odd to start with
The Force Touch trackpad is similar to that on Apple's latest MacBook Pro, but here the trackpad has been elongated so that it's a wide rectangle, which feels comfortable and gives your fingers more room to play with.
Even the speakers are a cut above average. They're not especially loud, but they produce a warmer, fuller sound than the tinny rattle that emanates from most laptops of this size. And, thankfully, Apple does include a headphone socket as well – one of its few concessions to ye olde wired peripherals.