Apple MacBook 2015: Twelve inches of slim and shiny fanboi joy
And it's optimised for better finger fun
Screen, price and performance
It had long been rumoured that the MacBook Air was due for a high-res Retina update, but Apple chose to bestow that honour upon the humble MacBook instead. The 2304x1440 IPS panel doesn't quite match the 2560x1600 resolution of the 13-inch MacBook Pro, but it's more than adequate for a 12-inch screen.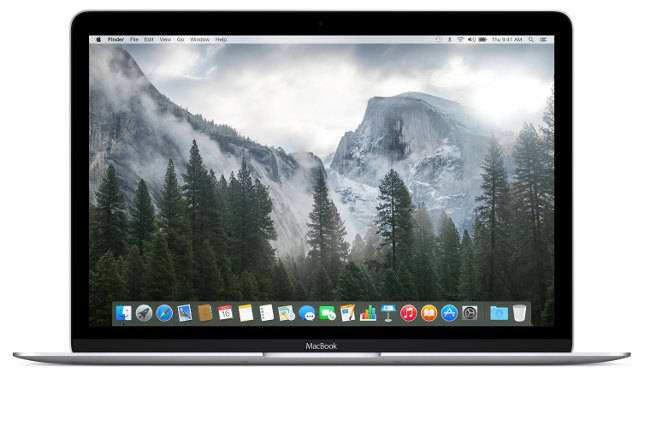 That screen in full: What a 12-incher it is
The image quality is excellent – clearly brighter and with stronger contrast than my MacBook Air – and the scaling options built into the Mac OS can mimic lower resolutions so that you don't have to squint to make out tiny text and icons.
The MacBook also marks the debut of Intel's Core M processors in the Mac line-up. We tested the £1049.00 model, which includes a Core M-5Y31 running at 1.1GHz (2.4GHz with Turboboost) along with 8GB of memory and 256GB solid-state drive.
There's also a 1.2GHz model with 512GB storage for £1,299.00, or you can step up to 1.3GHz for a total price of £1,419.00. Needless to say, though, user upgrades and repairs are out of the question. The RAM and solid-state drive are soldered onto the motherboard, resulting in a repairability score of 1 out of 10 from iFixit.
We had no problems using Apple's BootCamp to install Windows 8.1 on the MacBook, which allowed us to run the PCMark 8 benchmark software. The MacBook achieved scores of 1779 and 2168 in the Home and Work suites of PCMark 8. Those scores are comparable to other Core M laptops that we've come across, such as Lenovo's Yoga 3 Pro, but they're still way behind the 2530 and 2937 of the MacBook Air.
To be fair, the MacBook handled routine web browsing and wordprocessing perfectly well during the time that I had with it, but that sort of entry-level performance is still disappointing for a laptop that costs well over £1,000.00.
Running PCMark 8 constantly ran the MacBook's battery down in four hours and 15 minutes, which is respectable given the size and capacity of the MacBook's modest 39.7Whr battery. We'd expect less strenuous use to just about stretch to Apple's claim of nine hours, but the Broadwell update that was given to the MacBook Air just recently can stretch to almost 12 hours of Wi-Fi web surfing, so the pixel-packed Retina display is clearing taking a toll on battery life.
USB-C Connectivity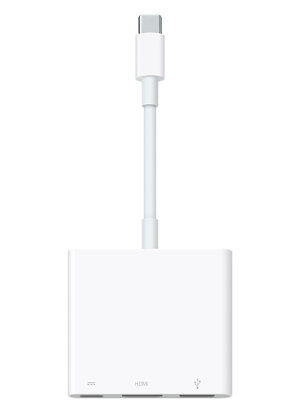 Yep, it's an Apple USB-C adaptor
Then, of course, there's that solitary USB-C interface. It's there primarily for charging the MacBook, which means saying goodbye to the popular Magsafe connector that has avoided many an unpleasant accident for MacBook owners over the years. If you want to connect any conventional USB devices to the MacBook then you'll need to buy a suitable adaptor.
Most people will just sigh and cough up £15 for the basic USB-C to USB adaptor that Apple sells, but it really stings you on the price of its more useful Multiport adaptors. These include both USB-C and USB 3 interfaces, which means that you can charge the laptop and plug in a USB device at the same time. The Multiport adaptors also include either HDMI or VGA interfaces for an external monitor, but they cost £65, which is pretty disgraceful given the high price of the MacBook to start off with.
The Reg Verdict
The design of the new MacBook is world class. It's wonderfully slim, light and sturdy, with the added bonus of a high quality Retina display. However, the MacBook's entry-level performance is disappointing, and the limited connectivity may deter some people from taking the plunge until USB-C becomes a bit more mainstream. ®

Apple MacBook 2015: Twelve inches of slim and shiny fanboi joy
Slimline 12-inch laptop with 1.1GHz Core M-5Y31 processor, 8GB memory, 256GB solid-state drive and integrated HD 5300 graphics.