¡Bong! Millions of Britons will go to the polls tomorrow for (we hope) the last ever analogue General Election. Several million more, many of whom share the same names and live at a surprisingly small number of addresses in inner-city constituencies, have already voted.
I hope you will choose wisely tomorrow. As a successful venture capitalist, entrepreneur and thought leader, it's not my place to tell you who to vote for. But I hope that as you make your choice, you will reflect on the incredible #digital achievements of this Conservative Government and their coalition partners whose name escapes me now [มาลัย, please fill in blank here – Steve].
Yes, there have been many failures. Many tantalising could-have-beens, and if-onlys.
Archaic intellectual property laws remain – preventing the creative automated reuse of anything that's ever been posted on the internet, and thwarting the kind of permissionless innovation that is ignited when you never have to pay for stuff.
Radio spectrum remains in the hands of dinosaur analogue-era broadcasters. And protectionist immigration policies designed to mollycoddle "British coders" prevent wealth-creators like me from tapping into the talent offered by much cheaper 11-year-old Vietnamese Javascript whizz kids. Not to mention the fact that we're still using pieces of paper in the Election! In an era of neuroscience and Twitter sentiment, giving us real-time #digital feedback on the zeitgeist, that's the biggest anachronism.
But just look at the #digital successes!
Exploding Cheese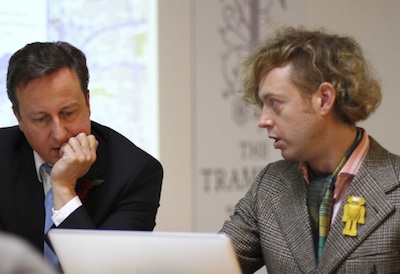 Can you remember Britain before it was covered in Tramperys?
The state now gives every #digital entrepreneur both a hand up and a hand out, thanks to the many Catapults and Launchpads the Government set up. While East London became an exploding cheese, Yorkshire alone has seen more jobs created working for Catapults, Launchpads and Local Enterprise Partnerships than the whole of socialist France. Almost every UK business has now been reclassified as a #digital business. Children as young as 2 are now being taught to code (using software and consultancy provided by Bong Ventures Learning LLC). Mindfulness lessons (provided by Bong Life Sciences LLC) will soon follow.
Just look around you. Property empires like The Trampery and Second Home were unimaginable five years ago. Lulu is now a verb. A great meritocracy has emerged, one in which if you only say #digital often enough, you will prosper: not because of your ancestry, but because you know the right people, and can master the #digital #hashtags.
A Warning
It will be difficult for some of you to resist the siren overtures of Ed Milliband and his seedy Shadow Chancellor, the priapic half-man / half-goat Russell Brand.
It has certainly been hard for my assistant – มาลัย (which means 'Garland of Flowers' in Thai) – to resist, judging by the late night comings and goings here in Shoreditch. Mr Brand is certainly an accomplished actor and digital film-maker, as his compelling made-for-Periscope documentary Was 9/11 a neoliberal inside job masterminded by Gideon Osborne? shows.
But just look more closely at the words carved into the 60 foot high obelisk of Mr Brand's penis that the Labour Party unveiled this week.
A unique British institution is at risk. Clue. It's a institution that's a pioneer, it's imitated around the world, and it's got three letters.
Yes. We've only got 24 hours left to save the GDS.
Just think back to the dark days of the Noughties when you could find government publications easily by using Google, and sites were designed by elitists – civil servants who knew what people actually wanted to find and do. Before UX labs. Those dark, dark days before GDS. Labour says GDS is a "fantastic delivery vehicle" and wants to expand it. But can we trust it? Or the people who created it?
And here's the clincher.
Let me just ask you. Do you want a Government that will help Martha Lane Fox create "the definitive public institution for the digital age"? Or not? Do you want cast the UK into the world without "establishing frameworks to help navigate the online world"?
I thought not. It's unthinkable that we might send British negotiators into a room, up against a Digital Superpower like Estonia naked, without the digital public institution or Martha's digital frameworks.
So tomorrow, then vote #digital. But even if you don't, the #digital people will win. ®
Steve Bong (official title: Lord Bong of #businessmodel) is the founder of Bong Ventures, an early stage investor and incubator focussing on innovative new technology start-ups based in Shoreditch, London. When he's not helping rear the next generation of business models, Steve enjoys parties and foreign travel, extreme cuisine, Open Data and draws his inspiration from Ayn Rand and His Holiness the 14th Dalai Lama. He advised (then hired) No.10 policy guru Rohan Silva on mindfulness and innovation, Lily Cole on innovation in giving, Mark Zuckerberg on the Perfect IPO, the Republic of Kazakhstan on emergent social media strategies, LOCOG on brand enforcement, and imagineered the Olympic Opening Ceremony with Danny Boyle, Shoreditch's #guardian coffee coffee shop with Jemima Kiss, and was the social media consultant for Edward Snowden and Lady Thatcher's Funeral. A recent attempt to arm the Syrian rebels with iOS7 sadly failed, however. He emphatically declined to assist the Islamic Caliphate in creating viral and engaging content.
At the personal invitation of Kim Jong Un, he is a strategic consultant on the Nextification of North Korea . Steve wants to pivot the BBC into the 22nd Century, blue-skying its hugely successful Digital Media Initiative, and advises the UK Government on icon design and the new National Curriculum. He favours Small Government but Large Catapults, the Soft Power of Tiny Coding Fingers, and wants more taxpayers to engage in Ambient Crowdsourcing.