Dive! Dive! Dive! Imation submarine barrels down toward rocky seabed
Pattern of newtech depth charges brackets Nexsan with shattering effects
The good ship Imation is like a World War Two submarine facing attack, with the captain yelling out "Dive! Dive! Dive!" - because diving is what all its revenues are doing.
First quarter 2015 revenues were $155.4 million, 13 per cent down on the year-ago's $178.9 million, and a staggering 21 per cent down on the preceding quarter. There was a net loss, as we have come to accept from most of the quarterly results over the past few years, of -$14.4 million.
This was ascribed to a decline of $23.5 million in the legacy Consumer Storage Media business and unhelpful foreign currency exchange rates.
There's a time for a CEO to report continuing bad news and two weeks before the May 20 AGM where a proxy vote war could cause you to lose your job is not it.
Poor Mark Lucas, Imation's CEO, put his best foot forward, and a pretty shabby looking piece of footware it was: "We are highly encouraged that our efforts to transform Imation into a global leader in data storage and security are working as demonstrated by the greater than 20 per cent revenue growth in our combined Nexsan [storage array] and IronKey portfolios."
Compared to the huge continuing fall in tape and optical media sales the Nexsan array revenue rise is trivial; look at the revenue chart.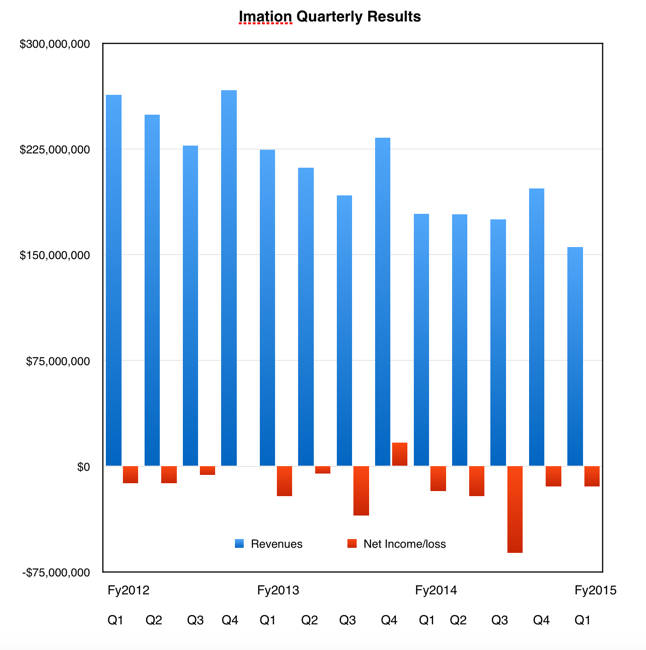 A consistent downwards revenue trend
Imation bought Nexsan, a traditional storage array manufacturer, in January 2013 - just when trad arrays came under sustained attack from virtual SANs, public cloud storage, software-only storage like Nexenta using white box hardware, all-flash arrays, hybrid arrays, and converged and hyper-converged server/storage/network systems; a veritable blitzkrieg.
Nexsan revenues have not grown as a result, giving Imation no growth counter-balance to its loss-making products. The hapless Imation board and execs are now under attack from activist investor The Clinton Group, which wants to take over the firm and sell it or its bits.
The rise in Nexsan revenues will encourage supporters of the current board and CEO. The continuing plummet in revenues will encourage Clinton Group supporters. Roll on May 20 and a hopefully clarifying vote. ®