This article is more than 1 year old
Drama in the dingly Dell as it embiggens its data centre range
Storage array machinations to have cake and eat it
Dell has dug a deeper bottom level for its SC Compellent arrays and piled up a new peak for its PS series EqualLogic arrays, expanding and enhancing both product ranges while still having an overall convergence strategy.

SCv2000
In your mental landscape, place Dell SC (Compellent) arrays as the enterprise multi-protocol SAN range. The PS (EqualLogic) arrays are mid-range iSCSI SAN arrays and then there are the converged PowerEdge FX2 server/storage systems and the XC hyper-converged systems OEM'd from Nutanix.
Dell also has its DAAD database accelerating appliances using servers with PCIe flash cards.
The SCv2000 is a lower-priced entry-level SC array, said to be disruptively-priced by Dell storage VP and GM Alan Atkinson. It is meant for "specialised projects, database and test environments, or simple storage consolidation."
It comes in a 2U or 5U enclosure with software supporting RAID tiering, thin provisioning, flash support, data-migration services, and multi-protocol connectivity. Data protection features include Remote Instant Replay, Local Instant Replays and a Replay Manager. There can be up to 2,000 snapshots (of virtual machines) and 500 replications.

SCv2020
SCVv2000 users can migrate to larger SC4000 and SC8000 arrays. There is a single management facility across the SC range and storage media includes disk and solid state drives.
The PS (EqualLogic iSCSI) array range starts with the PS4210 entry-level data centre array and moves on up to the PS6210 entry-level data centre array and on up to the PS6210 high-end, now previous high-end as the PS6610 offers 3.5 X more capacity and a sevenfold performance boost compared to a previous PS6510 array.
Alan Hunt, director of network operations at Dell customer Dickinson Wright, said: ""The Dell Storage PS6610 array is a work of art with a beautiful design." Hmm. Judge for yourself: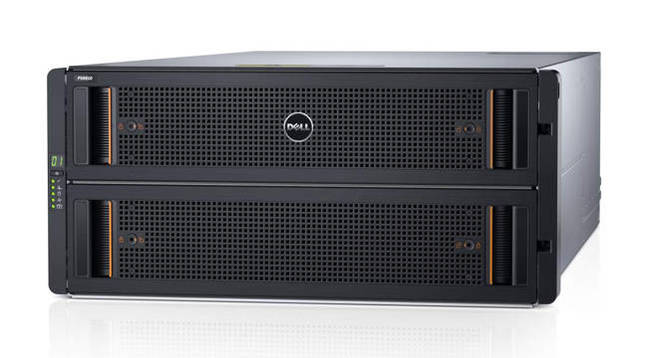 Dell PS6610. Work of art? Full of bezel beauty?
The PS6610 has a 5U enclosure which can contain up to 500TB of capacity. Dell says thus can be used for "workload consolidation, such as ERP applications, email storage and SQL databases, and for archival storage to support large data repositories such as those required for medical records, financial data and video surveillance."
The software, PS Series Array Software v8.0, saves space with snapshot and replica compression, and supports VMware VVOLs. A customer, Flagship Networks senior systems engineer John Dembishack, said: "In our test environment, we saw an overall compression ratio of 41 percent, and as high as 50 per cent on some individual volumes."
Dell is also announcing Dell Storage with Microsoft Storage Spaces, a scale-out file server product for "private cloud deployments, virtual desktop infrastructure (VDI), and SQL and Hyper-V environments."
The SCv2000 starts at $14,000 and is available now. PS Series Array Software v8.0 will be downloadable free of charge to customers on support contracts in the third quarter, as will be the PS6610 arrays. Dell Storage with Microsoft Storage Spaces is planned to be available in June.
Comment
These are solid array range announcements. Both the Compellent and EqualLogic customer bases like their kit. Converging the two ranges onto common hardware with a single dual-personality central array software product, or with a single SC or PS array software product and migration facilities will be difficult. Especially so in these days of rich storage alternatives from hybrid array and converged/hyper-converged storage system suppliers.
This is not the time to give any of your existing storage customers a reason to move to alternate suppliers. ®