This article is more than 1 year old
Mondeo Man turns into mutant electrical beauty: Ford Mondeo Hybrid
Looks like an Aston, drives better than a Prius
Vulture at the Wheel Considering the number of Toyota hybrids that you see on British roads, it's surprising that, despite Ford having offered a range of the things to the North American market since 2009, the new Mondeo Hybrid is the first one Uncle Henry has punted on this side of the pond.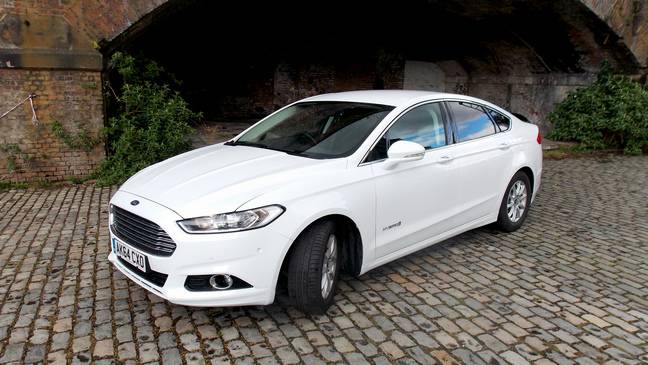 Ford's new Mondeo Hybrid. A touch of Aston and Jag, according to passers-by
Actually Ford is still playing favoured son because in the US you can buy a plug-in version of the Fusion (the US incarnation of the Mondeo) called the Energi which seems destined to remain a USA-only product.
Before we get all technical I have to come clean and admit I think the new Mondeo is one of the most handsome cars Ford has ever made. And Ford hasn't built an ugly motor in quite some time. Design-wise I reckon it's an absolute corker.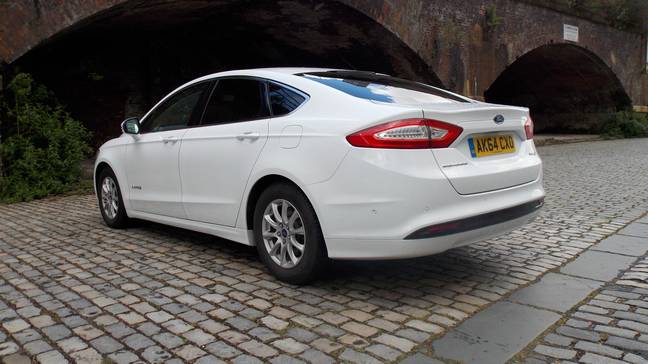 Each Mondeo has been bigger than the last; new model is no exception
During my week-long test I was twice asked while sitting at lights what it was I was driving. One casual observer asked if it was a new 4-door Aston. Another wondered if it was a new small Jag. Not bad marques to be mistaken for, even by people who I suspect don't read the motoring press religiously.
What I'm saying here is I was predisposed to like this thing from the moment I picked it up from Ford in Halewood.
I asked Ford how much of the drivetrain technology in the new Fusion/Mondeo was owed to the historical hybrid tie-up with Toyota. Bugger all, came the (gist of the) reply.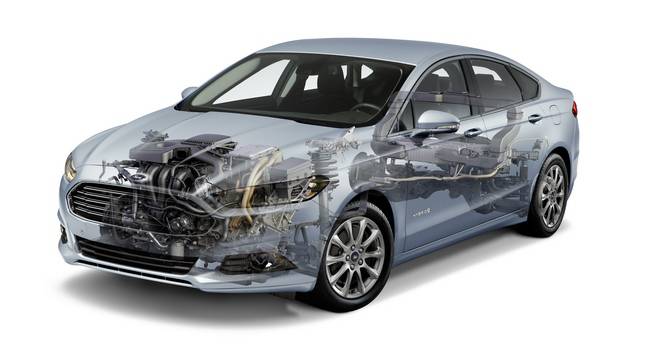 Hybrid powertrain owes nowt to Toyota tie-up. Note the high battery pack position in boot
Their cooperation was primarily concerned with the joint development of control systems. Long story short the hybrid gubbins buried inside this new Mondeo does not include any technology or hardware from Toyota. Nothing was copied from the clever Japanese boy at the next desk.