This article is more than 1 year old
Hordes spaff cash on Chip titchyputer to rival Pi (maybe)
1) Make Video. 2) Collect Money. 3) Hmmm ...
The success of the Raspberry Pi has spawned a cottage industry of imitators, but the budget hobbyist computer's $35 price tag is looking downright expensive compared to the latest arrival – the $9 Chip bare-bones computer.
The Chip comes with an Allwinner A13 ARM-based 1GHz processor, 512MB of DDR3 RAM and 4GB of storage, all on a circuit board that's smaller than a packet of cigarettes. Connectivity comes from 802.11b/g/n and Bluetooth, and you can buy a VGA or HDMI port adapter for an additional $10 and $15 respectively.
The device is the brainchild of an Oakland, California startup seemingly populated entirely by hipsters, which is pitching it as either a standalone computer or an inexpensive controller for larger projects. The Chip runs Debian Linux and, according to its developers, both the software and hardware are "totally open source."
For a more consumer-friendly package, the team is also offering an outer shell for the devices, dubbed Pocket Chip, which turns the Chip into the world's ugliest Blackberry knockoff. The $49 add-on has a 4.3-inch, 470-by-272 pixel color touchscreen, a QWERTY keyboard with what looks like finger-crippling buttons, and a battery that claims to be able to power the Chip for five hours.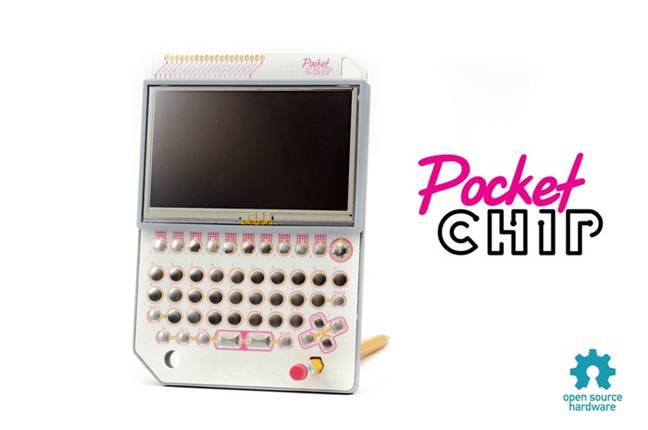 Note the high-tech pencil stand
The project went up on Kickstarter two days ago with the goal of raising $50,000 to buy parts cheaply in volume. It exceeded that in mere hours and the project now has over $275,000 in pledged funds – which could make the team think again about quite how big their plans should be.
The Chip devs plan to begin manufacturing the devices in November and the first units should ship in May of next year, but if you give the group $150 they'll apparently send you an alpha unit this September, plus five Chip units and a Pocket Chip gizmo once they become generally available. ®