Druva Phoenix is heading ROBO-wards via the public cloud
From end-points to remote offices
---
Comment It's not the end after all. End-point backup 'n' sharing biz Druva believes it can extend its end-point expertise to remote offices.
Its business is end-point backup and file-sharing, protecting data on business users' laptops, tablets, desktops and smart-phones with the InSync software product designed to minimise resource use as it processes local data and pumps it up to the Amazon public cloud; S3 for warm data and Glacier for cold data. It's doing well, as its funding history indicates.
Druva was started up in 2008 in India by Jaspreet Singh, Miland Borate who is the CRO, and and Ramani Kothandaramen who retired some time ago for health reasons.
Two years later it moved to Silicon Valley and received $5m of A-round funding, followed by a $12m round in 2011, a $25m one in 2013, which saw EMC invest some money, and then $20m last year. It's a total of $62m in funding.
The 3,000 or so customers range right up to blue chips and include Pfizer, the US Army, St Gobain, Dell and Tesla. Singh thinks there are about three million end-point users in InSync. He says that Druva "really nailed a narrow problem very very well." InSync works with virtually any end-point device, whether it runs Android, Mac OS X, IOS, Microsoft software or Linux.
These are the sort of numbers that get VCs salivating. He told us to expect a break-out round this year, getting us thinking of a $50m or more deal to accelerate Druva's growth.
For a business with one or more data centres and many user end-points to protect the default approach is to extend the backup scheme used in the data centre out to the users and their client-side data. Why would it want to buy a separate end-point-only backup product like Druva's?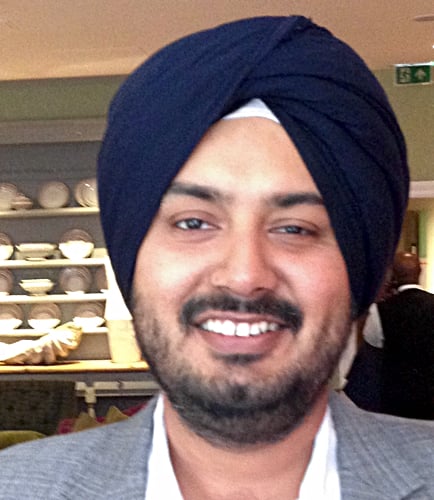 Druva CEO Jaspreet Singh
Singh says InSync is simply better, much better as it has been purpose-designed and tuned for end-points and their users' needs. It uses less of an end-point device's CPU and network resources.
Detailed dedupe implementation
InSync uses client-side deduplication with a server-side global dedupe index check to reduce up- and downstream network bandwidth. It is app-aware, variable-length block deduplication because Druva reckons this provides the most chances for identifying duplicated blocks in data. App-aware means InSync is aware of logical blocks and messages within an app's data stream. Supported apps include Microsoft Outlook and Office, and PDF format docs.
Before performing a backup InSync uses file fingerprinting to check with a server and its dedupe index to see if a file, or even a part of a file has been backed up before, by any user from any endpoint. This global check, across all the business' end-point devices, is key to getting the best deduplication ratio and minimising bandwidth use, as the client end-point sends only unique content to the server.
The server-side dedupe index is contained in Druva's HyperCache, a dedicated in-memory cache for fast lookup performance. Traditionally, these de-duplication indices have been stored on disk, with vastly slower access than DRAM.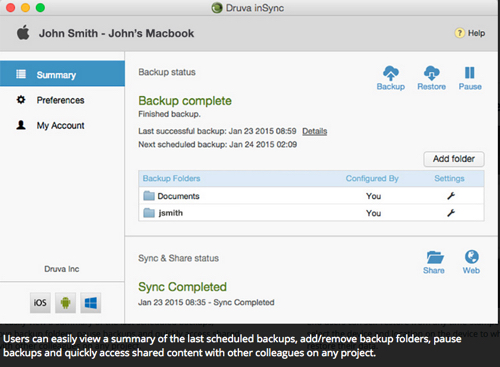 Druva screen shot
HyperCache is auto-tuned and Druva says it resizes itself based on storage consumption. With its help Insync reduces disk I/O by up to 80 per cent and optimisation for SSDs improves overall backup throughput fivefold, which makes it good for low-bandwidth client connections.
InSync deduplication works across both the backup and file-sharing functions to give greater benefits. It stores data through its Cloud File System which can send data as objects on to Amazon and also to on-site Ceph and Swift-based storage, as it does for Dell.
When data is transmitted WAN optimisation techniques are used to reduce transmission problems. For example packet size is optimised based on network noise and latency, and parallel connections are used. CPU usage is throttled to prevent backups interfering with higher-priority user applications.
Singh said: "We've not spent a lot of money marketing. We've evolved to become a backup and archive in the cloud player."
E-discovery facilities have been added, like event-based discovery and legal holds on filtered data, and governance features include meeting country-specific data locality regulations.