Gartner: Dell nowhere to be seen as storage SSD sales go flat
EMC leads the way
---
Well, here's another nail in the coffin for traditional storage arrays; Gartner claims array SSD sales were up just one per cent year-on-year, while server flash sales grew 51 per cent. EMC leads the AFA players, while Cisco and Dell are nowhere.
Total enterprise SSD revenue is 2014 was $5.77bn, up 30 per cent year-on-year. Within that server SSD revenue was $3.9bn, and storage SSD revenue was $1.8bn.
Vendor shares were:
Intel at $1.58bn — a 27.4 per cent share
Samsung with $848.2m — 14.7 per cent
SanDisk/Fusion-io with $848.2m — 14.7 per cent
Western Digital/HGST with $590m — 10.2 per cent
Micron $294m — 5.1 per cent
Charting them shows Intel's dominance: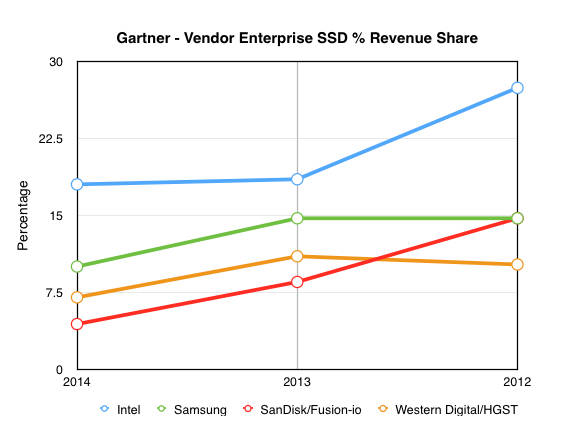 The gnomic Gartner knights also looked at all-flash array (AFA) revenues in 2014:
EMC at $444m — a 31.1 per cent share ($74m in 2013)
Pure Storage with $276m — 19.4 per cent
IBM with $233m — 16.4 per cent ($164m in 2013)
NetApp had $110m — 7.7 per cent ($71m 2013)
HP at $102m — 7.2 per cent
Violin Memory at $60.2m — 4.3 per cent
Solidfire roughly at $50m — 3.6 per cent
Kaminario roughly $50m — 3.6 per cent
Total AFA 2014 revenue was $1.4bn. Stifel MD Aaron Rakers notes EMC claimed a $1.2bn revenue run-rate for XtremIO exiting 2014, so the 2015 total AFA revenue figure ought to be a lot higher than 2014's.
A pie chart shows the relative shares: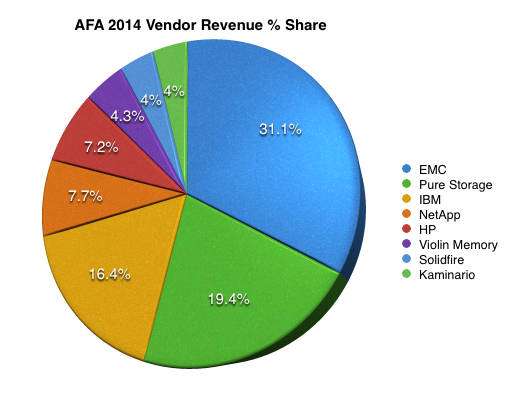 Source Gartner via Stifel MD Aaron Rakers
What do we notice? Neither Cisco nor Dell appear, meaning their AFA revenues are less than $50m.
We expect Cisco AFA sales to be flat because of its on-off sales availability for its troubled Invicta arrays. But Dell being absent from the Gartner numbers chart shows how relatively low its AFA sales must be.
It's still a young and fast-growing market. All suppliers could do well this year so long as they have good kit and a great channel. Dell looks be the weakest player right now and needs to pull its flash socks up if its going too gets its AFA sales running faster.
Otherwise it could be consigned to the also-ran category. ®